Officials at Canadian Border Services Agency (CBSA) customs posts in airports and border crossings have had a busy time in the past few months seizing large amounts of undeclared and dodgy cash.
Travellers are allowed to carry as much cash or monetary goods as they want, but anything worth over $10,000 Canadian must be declared.
This is so the CBSA can report it to the Financial Transactions and Reports Analysis Centre of Canada (FinTrac), which attempts to track funds destined for terrorist or criminal enterprises.
In the latest incident border agents seized almost $38,000 from a man leaving from Calgary International Airport en route to the Middle East
In answering routine questions from agents, the man said he was carrying $9,000.  Sent for secondary inspection, they found $18,000 in his clothing and carry-on, and another $20,000 in checked baggage.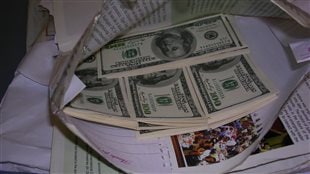 Agents said the man had a low level of income in comparison to the large sum of cash in his possession, and was unable to demonstrate to officers that he had legitimately obtained the money,
The money, all in Canadian $20 bills was seized under the Proceeds of Crime and Terrorist Financing Act.
The man is not under arrest, and police continue their investigation as to whether any charges will be laid.
On June 1 2014, officials carrying out routine questioning of outbound passengers at the Edmonton Airport in Alberta seized almost $68,000 in cash.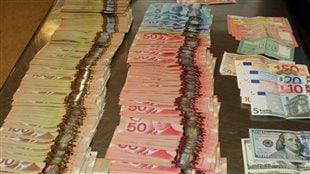 The traveller said he was carrying $20,000, but when sent for secondary inspection, they found $67,840 hidden in pockets and carry-on suitcase.
Most of the money was Canadian$20, $50  and $100 bills, but there was also Lebanese, Euros, and American cash.
Because the cash wasn't declared it was seized as suspected proceeds of crime.
Also at the Edmonton Airport, a shipment of fake US bills was seized on December 2. 2014
Inspectors examining a courier shipment from Nigeria to an address in Edmontong found a magazine with the American currency hidden between the magazine's pages.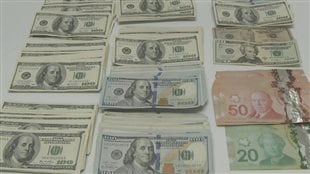 Closer examination showed the US $100 bills did not have the necessary security features in them. The fake bills totalling $397,000 were turned over to the RCMP.
This came on the heels of warnings about fake US bills in the area after several had been cashed at Edmonton businesses starting a couple of months earlier in October.
On December 8 at the Calgary International Airport, a man who claimed he was carrying $2,000 was later found to have the equivalent of $84,439.  As he was unable to demonstrate to CBSA agents that he had obtained the money legitimately, the cash was seized as suspected proceeds of crime with no terms of release
Every year, tens of millions of dollars is seized at Canadian entry/exit points. As an example, from April 2011 to June 2012, over $15 million in cash was seized at Vancouver airport alone, most of it from travelers from China.  In June 2012, a Chinese passenger came in with $177,495.00 in undeclared money. It was seized but after investigation, most was returned, minus a $2,500 fine for not declaring the cash.  Typically Canadian fines range from $250- to $2,500.
Canada is a popular destination for those concerned about security in their own countries because unlike the United States, travellers are likely to get their money back after paying a fine.  Those caught trying to smuggle cash into the United States, face the possibility of siffer fines, up to $500,000 and up to 10 years in prison.  Also in the US, the smuggled money is confiscated and not returned.