Snowshoeing, skating, and skiing are just some of the activities helping immigrants in Montreal settle in and enjoy winter. Community leader Adrienne Blattel began an intercultural outdoor activities program four years ago in conjunction with the Milton Park Recreation Association.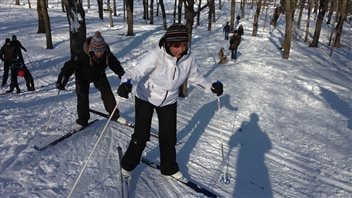 Blattel got the idea while working in the former Yugoslavia.  She joined a hiking group there and got to enjoy the scenery and practicing her language skills. Upon returning to Montreal, she thought similar activities could help newcomers integrate more easily into Canadian society. So she began by organizing a canoe camping trip in the beautiful Laurentian region north of Montreal.
Taking winter to heart
Contrary to what one might think, immigrants were not reluctant to participate when winter brought a change of activities. "A lot of people have heard that the best way to enjoy the winter and to get through it is really to learn winter sports," says Blattel. "They've taken that to heart. They easily find us and we can't seem to provide enough space for the demand."
Listen
People have a lot of fun, says Blattel, and they enjoy finding the sports they like best. "They can feel the winter going by as they come back week by week and they learn to look forward to good snow conditions and the feeling of being warm because you've been moving and having fun outside even if it's very cold out. I think it's really transformed a lot of peoples' way of looking at winter."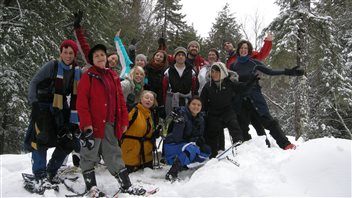 Meeting across cultures
In summer there are cycling, hiking, rock climbing and other activities that people can enjoy. "There's a goal for people to meet each other across cultures…I've seen the development of a lot of really nice friendships and whole networks of friends…people even doing job-related networking," says Blattel.
Participants meet at parks or skating rinks in Montreal.  They can borrow gear for the activities from the program or rent it at low cost.  The winter sports program costs $85 for eight sessions, or $75 for newcomers.
The program is open to everyone, so Montrealers participate and meet newcomers. Participants form attachments, says Blattel, and"it helps people feel more a part of things here."