Pre-packaged foods marketed for toddlers often have excessive salt and sugars in them, according to a U.S. study.  These processed foods are not as common in Canada but some are already consumed and more are being introduced.
Commercial foods for infants were low in sodium and most did not contain added sugars.  But seven out of ten foods for toddlers were found to have too much sodium and most contained at least one added sugar.
Dieticians say these foods fulfill no nutritional need, and feeding them to toddlers may create bad habits.
'Pre-programming a taste preference'
"Are we really pre-programming them to learn to like these foods that have lots of salt and lots of sugar…kind of programming the taste preference for these little children," says Becky Blair, a public health nutritionist in Barrie, Ontario and a spokesperson for the Dieticians of Canada.
Listen
The fear is that these children will grow up into adulthood preferring and eating these foods, which would put them at a higher risk for chronic diseases like diabetes and cardiovascular disease, says Blair.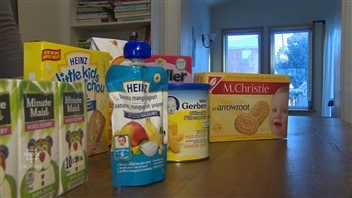 Convenience not the best choice
Canadians have a busy lifestyle, and processed foods are convenient for harried parents, acknowledges Blair. But she urges parents to make healthy eating a priority and spend some time planning to provide fresh fruit and vegetables and whole foods as often as they can.
"Interesting research that was just released last year…says the more that fruits and vegetables that were introduced to children during infancy and toddlerhood, the more likely they were to be eating these same types of foods in late childhood," says Blair.
"So there is some evidence to say that offering healthy foods earlier in life will make an impact on the quality of their diet later on in life."