A recent incident of four cases of measles in Toronto has officials concerned.
The disease, caused by a virus, has been virtually eliminated in Canada thanks to vaccination programmes, with only a few cases per year reported.  These are usually the result of contact with someone arriving from abroad.
Jane Heffernan (PhD) is a York Research Chair, Director of the Centre for Disease Modelling, and associate professor in the Department of Mathematics and Statistics at York University in Toronto.
Listen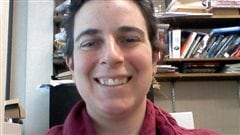 Professor Heffernan points out that to get so-called "herd immunity" to severely limit or even stop a disease like measles, 95 percent of the population has to be immunized (vaccinated), which is the case in Canada.  However, an investigation by Global News Network last year found a somewhat lower average among the students at several schools with an average of about 91 percent, although one school had only 43 percent of students vaccinated.
The resurgence of the virus has reignited the vaccination debate and the thought by some people that the measles, mumps and rubella (MMR) vaccine can cause harm. Some parents also chose not to vaccinate their children for religious reasons, but must go before an oath commissioner and present their case. If accepted an affidavit will be sign permitting parents to skip vaccination of the child.
Things to know
Measles can spread easily and survive for up to two hours on objects or in the air
A person is contagious roughtly four days before a rash appears and four days afterward
Symptoms of measles include fever, cough, runny nose or red eyes and a red blotchy rash that appears several days after the fever starts.The rash typically begins behind the ears and on the face, spreading down to the body, and finally to the arms and legs.Symptoms of measles can be seen within seven to 21 days of being exposed to measles.If you are at risk for measles, typically you would start seeing symptoms 10 days after exposure.
Measles is spread through direct contact, through the air when a person coughs or sneezes, and by touching objects that were recently exposed to infected mucus or saliva
There is no treatment for measles and most people recover within two to three weeks. A doctor can prescribe medication, including pain relievers, to reduce fever. The Public Health Agency of Canada recommends people drink lots of fluids, eat healthy foods and get plenty of rest.
In some cases it can lead to brain swelling (encephalitis), pneumonia, and hearing loss. The Public Health Agency says between two and three out of every 1,000 cases of measles is fatal in developed countries.
 Because Canada does have a very high vaccination rate, the chance of the current incidence of measles is likely to remain extremely limited.
What makes these recent cases in Toronto unusual is that there are no known connections among the two adult cases and two very young children with measles, and they are not linked with travel.
Recently about 100 cases in the US were linked with a source at Disneyland.
Dr. Anne Schuchat, director of the National Center for Immunization & Respiratory Disease at the U.S. Centers for Disease Control and Prevention, said Tuesday. There are about 20 million measles cases around the world each year.