While "rammed earth" is not a familiar term now, it was not unusual in the 1800's. Also not unusual is the consecration of a small church in a Canadian village.
But there is something unique about St Thomas Anglican Church in the village of Shanty Bay. It's located on the shore of Lake Simcoe, east of Barrie, Ontario.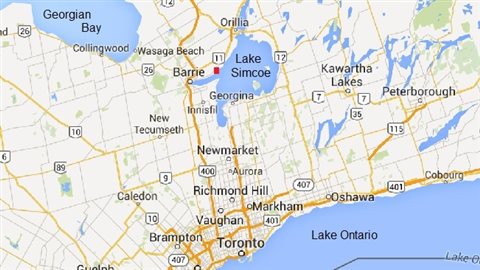 St Thomas, built in the Gothic revival stye, is one of the last original survivors built of "rammed earth" construction in Canada, and possible one of few original survivors in North America.
It's a type of construction going back actually thousands of years.
Initially a useful technique using readily available local subsoil mixtures of clay, sand, and perhaps bits of chopped straw, the material was physically compacted in a mould, being "rammed" with a tamper into blocks or long walls, usually about 14 -24 inches wide. The exterior was often then covered with another material such as plaster or stucco to protect it from the elements. Although inexpensive, (dirt cheap one might say) it was labour intensive.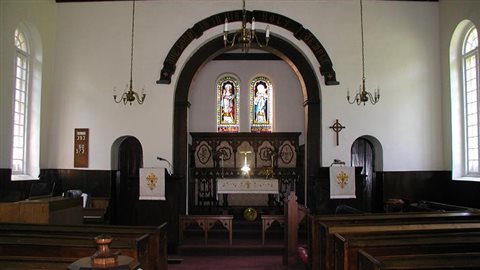 In Canada, the practice of rammed earth construction was always relatively rare as it performs better in less humid climates, and it quickly fell out of favour. There was plenty of lumber, and when sawmills, and then commercial bricks and blocks began providing ready-made materials deemed to result in "higher class" buildings.
Rammed earth buildings however were not uncommon in environments with wide temperature swings, providing for excellent sound damping along with good temperature stability through "thermal mass" which absorbs heat during warm periods and releases it slowly through the cool nights.
They have shown excellent durability some lasting many centuries in some locations in the world.  In Ontario where the climate is les than ideal for such buildings, St Thomas Church, for example, is still a functioning Anglican church as it approaches 200 years.
Because of their low impact on the environment, and with modern additional materials and techniques, rammed earth buildings have made a comeback since the 1970's with several architects and building firms specializing in the technique.