Decline in marine prey fish blamed.
They seem fairly ubiquitous, but researchers have found Glacous-wing gull populations in dropping sharply on the west coast of Canada. In fact, the gull population is down by about 50% since the 1980's.
The new study by the University of British Columbia (UBC), says a number of factors such as protection laws, and a decline in predators like eagles, led to a marked increase in gull population since the early 1900's to peak around the 1980's.
The UBC researchers say ther factors including a decline in marine food sources is reducing their numbers. Peter Arcese (PhD) is the Forest Renewal BC Chair in Applied Conservation Biology in the Department of Forest Conservation and Sciences at the University of British Columbia. He supervised the research team.
Listen
The study "A century of change in Glaucous-winged Gull (Larus glaucescens) populations in a dynamic coastal environment" was published earlier this month in The Condor: Ornithological Applications.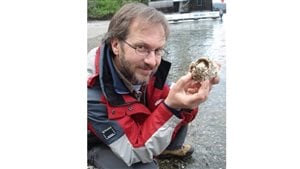 Lead author Louise Blight says of the gull decline "These birds are the ultimate generalist — they can eat whatever's around. If this extreme generalist is not doing well, it's a pretty strong message that the marine ecosystem has changed. Not for the better."
As the high fat, high protein diet of small fish has declined, the gulls have turned to other readily available sources on land like garbage, and earthworms.
Professor Arcese says because this is not providing the needed nutrition, it's suspected that gulls might not be laying as many viable eggs, or the young are not surviving long, leading to the marked population decline.
Other populations like the marbled murrelet are experiencing an even steeper decline  up to 90% as have western grebes.  In the murrelet case from habitat reduction and marine food source decline.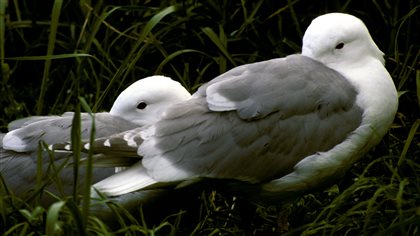 While western grebes were  once common in winter in the British Columbia lower coastal area there numbers too have dropped almost 90% but in this case they seem to have simply moved southward to over winter in California where prey fish like anchovies have increased.
Professor Arcese says that if a generalist predator like the glaucus gull is declining, it's undoubtedly a sign that other, less easily documented land and marine species are also in trouble.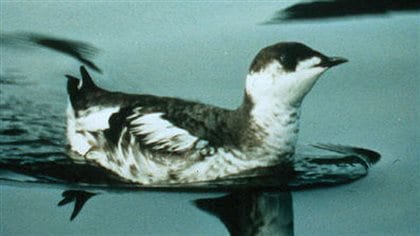 Louise Blight, Mark Drever, and Peter Arcese of the University of British Columbia compiled all available population counts of Glaucous-winged Gulls (Larus glaucescens) in the Georgia Basin (defined as the region around the Lower Mainland, Victoria and Nanaimo), and then used these data to examine gull population trends from 1900 to 2010.
The information they used included both their own survey data and counts that had been carried out by amateur and professional biologists. Their study revealed that from a low point in 1900, gull population counts increased after protection was afforded by the Migratory Birds Convention Act of 1916.  The population peaked in the 1980s before beginning to decline again, which correlates with the recovery of Bald Eagle populations and declines in marine food quality and availability.
With files from UBC