Although "Black History Month"  (February) has ended in Canada, March 14 nonetheless marks an important date in the emancipation of blacks.
Upper Canada's Lt-Governor at the time was John Graves Simcoe of Britain who had been an abolitionist before his arrival in the colony. In 1790 he spoke in the British Parliament calling for an end to slavery saying it went against both the teachings of Christianity and the spirit of the English Constitution.
The incident that sparked the beginning of the end
On this day March 14, 1793, a woman named Chloe Cooley was a black slave in the town of Queenston,  near the mouth of the Niagara River, now the province of Ontario.
Knowing the Lt-Governor's opinion and sensing that the tide was slowly turning in Canada against slavery, and that he may lose his investment, the woman's "owner" sold her to someone in the United States.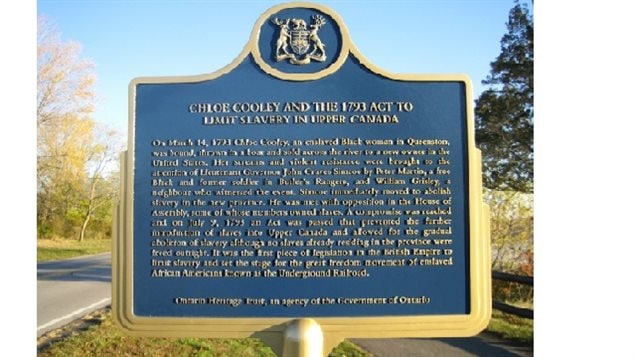 He and other men had to physically restrain the screaming woman as they loaded her into a boat to row across the river to her new owner in the United States where slavery was still in full bloom.
The incident was witnessed by two men, including the free black man and former soldier in Canada's Butler's Rangers, Peter Martin. They brought word of the incident and of the "violent outrage to Cooley" to the attention of Lt-Gov. Simcoe on March 21st.  The executive council of the Canadian colony then resolved to take immediate steps to prevent "such violent breaches of the public peace".
Charges were brought against the man who sold Cooley but were quickly dropped.  Under the then current British law slavery was not recognized, meaning Cooley had no rights as such and was treated as a piece of property.
Gov. Simcoe sought to abolish slavery but the move was met with some opposition in Upper Canada's House of Assembly as some members were themselves slave owners.
However only months later a compromise was reached on July 9,  It did not free slaves currently held in the colony, but it stipulated that no new slaves could be brought in or that people could be made slaves, such as the children born to current slaves, or American slaves who escaped from the US and arrived in Canada.  Because of the law, it meant that slavery in "Canada" would be gradually eliminated,
Canada led the way in abolition.
Thus it became the first piece of legislation in the British Empire to limit slavery. It also meant American slaves escaping from the US would be free, and so set the stage for the great freedom movement of black slaves from the US into Canada known as "the underground railway".
From 1793 and the US abolition of slavery during the US Civil War in 1863 an estimated 30,000 former slaves made it into Canada via the underground railway.
Following the Canadian lead, Britain made it illegal to transport slaves in 1807, and finally abolished slavery throughout the Empire in 1834