A new Economist magazine says Canada is among an exclusive, but certainly not enviable club of seven countries where the housing market is dangerously over-valued.
 National average housing price in Canada in March = $439,144   (Canadian Real Estate Assoc.)
The Economist's housing index compares the path of house prices against two measures: rents and income. If house prices rapidly outpace either one, a bubble may be forming
In fact of the 26 housing markets tracked around the world, Belgium, Australia, and Canada are the most overvalued in that order.
However the magazine says it is in Australia and Canada that prices seem most out of kilter. They are 61% overvalued relative to rents in the former, and 89% in the latter.
CREA interactive Canadian house price map
There are some grim warnings about a housing market bubble, suggesting that Canada could suffer a collapse similar to that in the US when that bubble burst in 2006.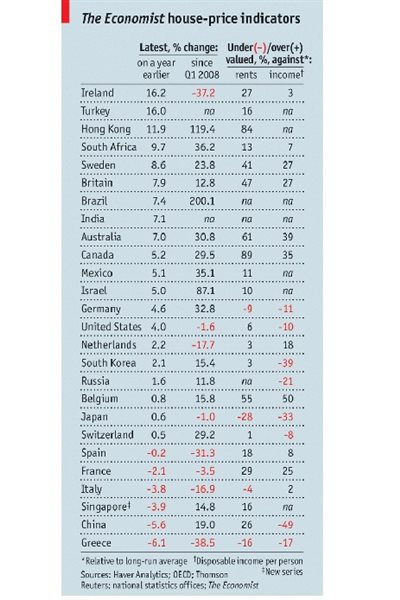 Edmonton Alberta based  housing analyst Hilliard MacBeth said this week that Canada's housing bubble is even bigger.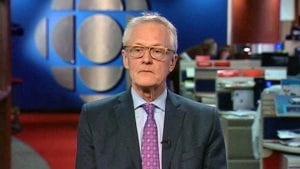 He is the author of the book "When the Bubble Bursts: Surviving the Canadian Real Estate Crash".
He points out that U.S. investment in housing topped out at six per cent of GDP before the crash.  Quoted in CBC news he said. "At seven per cent, our exposure as a percentage of total economic activity is higher, and then we've got this nationwide obsession with buying homes and condos".
Last December, the Bank of Canada governor Steven Poloz said  consumer debt loads and housing prices overvalued by up to 30 percent were the biggest threats to the Canadian economy. At that time, the central bank devised it's own forecasting model and said housing prices have been overvalued by at least 10 percent for several years and up to 30%.
The central bank also said about 12 per cent of Canadian households are considered to be "extremely indebted", meaning they have a debt-to-income ratio of at least 250 per cent, a ratio that has doubled since 2000.
Earlier last year, the US ratings agency Fitch said in July that Canadian house prices were 20% over valued.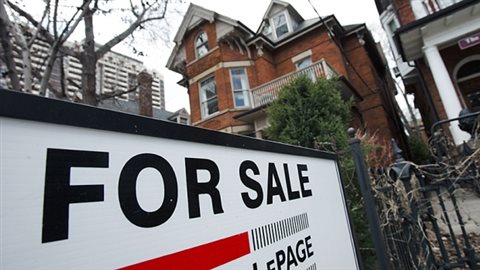 Prices up 9.4% over last year   (Canadian Real Estate Assoc.)
The warnings however do not seem to be slowing the hot Canadian housing market where prices have risen in almost every city and province in Canada
House prices in Canada are up 9.4 percent from a year ago while the MLS home price index is up almost 5 percent.
According to statistics[1] released April 15 by The Canadian Real Estate Association (CREA), national home sales activity was up on month-over-month basis in March 2015.
Highlights:
-National home sales edged up 4.1% from February to March.
-Actual (not seasonally adjusted) activity stood 9.5% above March 2014 levels.
-The number of newly listed homes rose 1.8% from February to March.
The Canadian housing market remains balanced.
-The MLS® Home Price Index (HPI) rose 4.95% year-over-year in March.
The national average sale price rose 9.4% on a year-over-year basis in March; excluding Greater Vancouver and Greater Toronto, it increased by 2.4%.