Canadians are using less sunscreen these days and the number of cases of skin cancer is increasing. The sun's ultraviolet rays are the cause of 90 per cent of all melanoma cases.
After the long Canadian winter, many people just can't wait to get outdoors and feel the sun on their skin. But Dr. Beatrice Wang, director of the melanoma clinic at the McGill University health Centre thinks they are applying less sunscreen. She attributes this to consumer fatigue, concerns about fashion and an apathetic attitude toward skin cancer.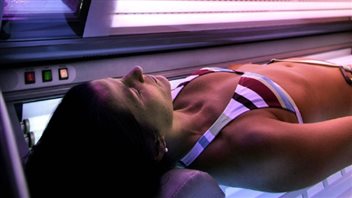 Skin cancer rates increasing
Skin cancer rates have increased in the past two decades, especially for people over 50 years old, according to the Canadian Cancer Society. The Melanoma Network of Canada says that in the 1930s, the chance of getting skin cancer was one in 1,500. Now it is one in 50.
The lower rates may be partly because pale skin was revered in the early 20th century and more of it was covered up. Today, a bronzed body is seen as highly desirable to the point that some people go to tanning salons. Some provinces have barred children under 18 years old from using them.
More worried about wrinkles than cancer
Wang says parents are "quite vigilant" in putting sunscreen on young children, but when the kids are old enough to apply it themselves and see their parents not using it, they are less likely to do so.
Doctors could play a bigger role in getting patients to use sunscreen. But Wang says she has found warning people about the risk of melanoma is not nearly as effective as telling them the sun will wrinkle their skin.
The Canadian Skin Cancer Foundation recommends people stay out of the sun between 10am and 4pm, that they use sunscreen of SPF 30 or higher and reapply it every two hours.