Homeless people matter to Mayor Denis Coderre in Montreal. Early this spring, when the temperatures were still frigid, Coderre led a campaign to survey, or conduct a census on homelessness, to get an idea of how many people were living on the streets.
Lower than the number of homeless people in other cities in Canada
The results were released this week at City Hall and some of the findings were surprising. The number of homeless people surveyed, at 3,016, was lower than expected. Some community groups had suggested the number was closer to 30,000 homeless people in Montreal. It is also lower than the number of homeless people in other cities in Canada, such as Edmonton, Calgary and Toronto.
More than 800 volunteers fanned out across the city in March to talk to people on the street and find out about their living conditions. Those known to be the "hidden homeless" were also included.
"hidden homeless"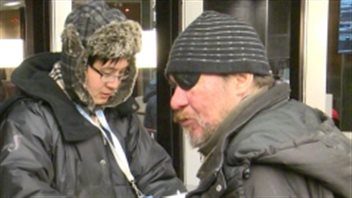 "In the West Island, what we're told is that there's no street homelessness at night to speak of so that's why it's important to do the day centres, where in fact you might get young people couch surfing in the basement of a friend," said James McGregor, the general manager of the project, told CBC News.
"It's a different kind of homelessness. It's what's called hidden homelessness, so that's what we're hoping to get a better picture."
There are plans to conduct another survey this summer when the weather is more conducive to sleeping outside.
McGill University professor and researcher, Eric Latimer, who worked on the survey as well, said the plan is to repeat the count every two years. With accurate numbers, Latimer wants the city and the province to take action.
"Ultimately, I would hope that we will put in place programs to actually help people who are homeless get housed," he said. "There are some of those programs starting up right now and probably we need to increase their number."
Key findings:
76 per cent of homeless people in Montreal are men.
93 per cent of the people who sleep outside are men.
54 per cent of people who live in transitional housing are women.
44 per cent of people experiencing homelessness were born in Montreal.
Immigrants represent 10 per cent of the homelessness population.
10 per cent of Montreal's homeless population is aboriginal, even though less than one per cent of Montreal's total population are indigenous.
Veterans represent six per cent of Montreal's homeless.