A new hockey league will be inaugurated this weekend, a league that confirms just how deeply the game has burrowed into Canada's soul.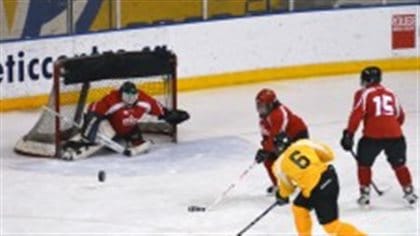 The Canadian Blind Hockey Association, which will have teams across the country, comes into being Sunday afternoon with ceremonies and an exhibition game at MasterCard Arena, a 1,000-seat house that serves as the practice home of the NHL Toronto Maple Leafs.
Blind Canadians have been playing hockey since the early 1970s, but organizers say the new league is a big step up, something they hope will eventually spawn similar leagues in the U.S. and Europe.
Think about it. It's extraordinary really. Put a blindfold on, wad up a piece of paper and toss it into the waste basket in the corner. See.
Now, multiply that by a zillion. Find a set of skates, a hockey stick and some ice. Try lifting a puck into the corner of the net.
I think we can agree that Canadian Blind Hockey Association will be stocked with exception athletes.
There are, of course, degrees of blindness, ranging from legally blind to totally blind. In international blind sports classification there are three sport classes: B3, which is legally blind with approximately 10 per cent vision or less, B2, which is approximately five per cent vision and B1, which is no vision.
Because this is hockey we're talking about, any team worth its salt is going to be looking for an edge. The Blind Hockey Association is ready. It will unveil a new point system Sunday to allow fair competition between teams by limiting the number of players in any given blindness category.
The creation of the Canadian Blind Hockey Association follows a lot of hard work by Courage Canada, a charity that has led the development of Blind Hockey for adults and children.
It has successfully established an annual Courage Canada National Blind Hockey Tournament, holds hockey camps, and has run more than 100 skating field trips across the country for over 500 children.
Matt Morrow is executive director of Courage Canada. He spoke to RCI by phone from Toronto, where he is preparing for Sunday's launch.
Listen