The United Nations fired the head of its peacekeeping mission in the Central African Republic over allegations of sexual abuse by peacekeepers. There have been reports of abuse by military and civilian personnel in several countries.
'A monumental failure of leadership'
The firing does not go far enough for AIDS Free World, a group co-founded by Canada's former ambassador to the UN, Stephen Lewis. It has campaigned hard for action on alleged sexual abuse by peacekeepers and issued a news release blasting what it called a "monumental failure of leadership and appalling mismanagement" at UN headquarters.
"We're certainly pleased to see that there is forward movement and tangible action is being taken by the secretary-general. We think it's necessary, but inadequate," says Paula Donovan, co-founder of AIDS Free World. "It's a first step and other people certainly have to be held to account as well—people at the very top of the UN system and in the Central African Republic beyond Mr. Gaye."
Listen
UN head 'anguished' and 'ashamed'
In his own resignation letter, General Babacar Gaye said the issue of sexual abuse "could be a systemic problem warranting consideration at the highest level of the organization." He added that he had taken a "very robust stand" against misconduct and that "many" peacekeepers had been sent home.
"I cannot put into words how anguished and angered and ashamed I am by recurrent reports over the years of sex abuse and exploitation by U.N. forces," said Secretary-General Ban Ki-moon.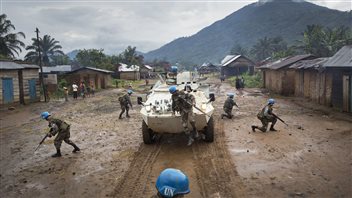 Firings would prove 'zero tolerance'
Ban was to meet today with the heads of all peacekeeping missions to talk about their responsibilities. Donovan says he can go further: "The minute an allegation of sexual abuse is brought to the fore, not only should it be reported rather than supressed by the United Nations, but the secretary-general should take action against the force commander and secretary-general's special representative in that country and say…
"'If the people that you are managing and supervising are turning into predators then your management is faulty and you should be resigning within moments.' That would send a clear message throughout the whole UN system and to all the troop-contributing countries and others that when the secretary-general says he has zero tolerance for sexual exploitation and abuse that truly means zero. That doesn't mean there is any leeway whatsoever."
57 allegations of misconduct in CAR
The firing of Gaye came a day after Amnesty International accused peacekeepers of indiscriminately killing a teenager and his father and raping a 12-year-old girl this month. Medecins Sans Frontieres says it treated the girl and three others who reported sexual abuse. Ban's spokesman said the UN force has faced 57 allegations of misconduct including 11 of possible sexual abuse in Central African Republic since April 2014.
AIDS Free World alleges peacekeepers have traded food for sex with women and minors, and that sexual abuse is rampant in UN peacekeeping missions in several countries.
Call for an external investigation
United Nations member countries should demand a well-resourced, external and independent investigation into all allegations of misconduct by peacekeepers, say Donovan.  "The entire system needs to be subjected to a truly external review by what is essentially the board of directors of the UN, that is the member states themselves."