A retired judge has found that Toronto police Supt. David (Mark) Fenton "demonstrated a lack of understanding of the right to protest" when he ordered mass arrests during the G20 Summit in June 2010. A disciplinary hearing under the Police Services Act found Fenton guilty of three of five charges for his role in the largest mass arrests during peacetime in Canada.
Fenton was in charge of Toronto's downtown core on June 26 and 27. After a small group of protesters broke some windows and set fire to police cars, Fenton ordered police to surround and arrest hundreds of protesters in a strategy called "kettling." Approximately 1,100 people were arrested and detained. On the 27th, hundreds were kettled and kept outside for hours during a thunderstorm in pouring rain.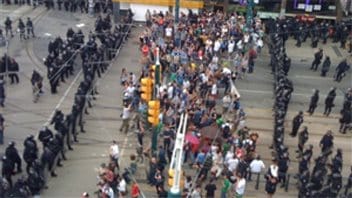 'Unlawful or unnecessary authority' finding
In his defence, Fenton testified that Toronto had "deteriorated into a sense of lawlessness" and that police had intelligence suggesting protesters planned to kill or stab police officers. He added that the chaos reminded him of violent situations in his native Northern Ireland.
The judge noted that Fenton had an unblemished record and that he took his role as commander during the G20 summit seriously.  Nonetheless, he found Fenton guilty on two charges of exercising unlawful or unnecessary authority and one charge of discreditable conduct.
Widespread criticism of police tactics
Thirty-seven people had filed complaints with the police oversight body, and lawyers representing them argued Fenton's actions amounted to a flagrant and reckless disregard for fundamental rights under Canada's Charter of Rights and Freedoms.  Several civil liberties advocates and groups had also protested the police action as a violation of the democratic right to assemble and protest.
It is not yet clear what disciplinary action will be taken against Fenton in light of this ruling.