It's 'a mystery' why Canada is not processing Syrian refugees more quickly, says Mike Milloy, a former Canadian government official who oversaw the acceptance of tens of thousands of Asians in the late 1970s. In the wake of the fall of Saigon, Canada accepted more than 60,000 refugees from Vietnam, Laos and Cambodia.
Milloy doesn't understand why the Canadian government is not taking steps to expedite the resettlement of Syrian refugees the way it did in 1978, and as it has done with other waves of asylum-seekers.
Past dramatic steps simplified the process
When the Canadian government realized how big would be the wave of Asians fleeing Vietnam and other countries in 1978 it passed a special regulation to override the requirements for granting asylum. "What that did was simplify the process," says Molloy.
"What it essentially said or meant was 'we don't care if these people are convention refugees. We know that they all have to be resettled. So we're not going to waste time having long interviews with people to determine if they have a well-founded fear of persecution."
Listen
Paper work 'was cut in half'
Interview times were cut from an-hour-and-a-half to 12 minutes. Once applicants passed medical and security checks, they received a one-page document that served as a travel document and a visa. Paperwork was cut in half, says Molloy.
Canada sent more than a dozen extra officers to Asia to process the applicants and they worked long hours doing so. The result was that people were processed within eight weeks and on their way to Canada. Once they arrived safely, they were sent to special offices that were set up to complete the process.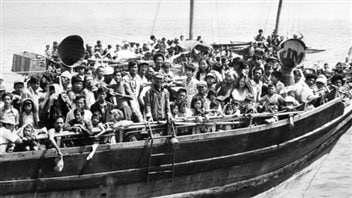 Eight weeks then, almost two years now
Molloy was mortified to learn that now, it can take almost two years to process people from the Mediterranean region who want to seek asylum in Canada. "If people are in desperate states—we've got children living in tents—why the hell don't we put enough people out there to move people in a more reasonable time," he asks.
Sponsorship manual 54 pages long
Molloy adds the private sponsorship program now "is overly complicated" noting the instruction manual for Canadian who want to sponsor is 54 pages long. He also finds it odd and an abrogation of Canadian sovereignty that officials rely on the United Nations or Turkey to tell them who is a refugee.
Lack of Canadian action 'a mystery'
Instead Milloy thinks Canada should recognize a distinct group of people—those with a connection to Canada either through relatives living here or groups willing to sponsor them, and those families with children.
"Target those," he says. "We get the most bang for the buck in terms of our resources and we get those children out of the camps and in to Canadian schools as soon as possible. That's what we should be doing. Why we are not doing that is a mystery to me."