In 1949, airline travel was still an exciting and relatively rare experience for the population in general. Love-triangles however, have been known throughout history.
On this day in 1949, those two things would collide with tragic results to make Canada the site of the first case of airplane sabotage solved through forensic investigation.
There had been two previous bombings of passenger planes; one in Chesteron Indiana in 1933 killing 10 in a possible gangland bombing, but with no suspects, and another in May of 1949-a contract bombing of a Philippines Airlines plane killing 13. Two ex-convicts later confessed to the bombing and a woman later charged in the murder of her husband aboard that plane.
That same year in the French-speaking province of Quebec, Albert Guay, 31, a struggling watch and jewelry salesman in Quebec City was in a troubled marriage with 28 year old Rita Morel.  Morel had recently moved out with their 5-year-old daughter.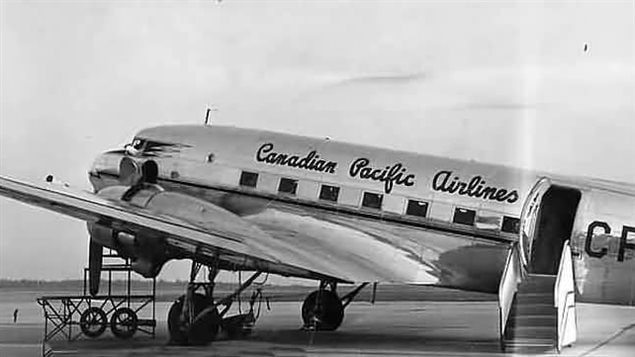 Albert had at sometime earlier become enthralled with a 19-year-old waitress and began an affair but she apparently dumped him when she discovered he was still married.
In the strongly Catholic province, divorce would have been almost impossible, so Albert decided his wife Rita had to go- permanently- so he could be with the young Marie-Ange Robitaille.
In addition, he thought he would also collect money from insurance in the process. First he thought about poison, but then the idea of bomb on a plane came to him, possibly from the Philippines Airlines bombing earlier that year.
Guay then got a business acquaintance who owed him money, clockmaker Genereux Ruest, to make a timing mechanism from an ordinary clock and batteries. In those days civilians could buy dynamite fairly easily, the transactions merely being recorded.  Ruest got his sister Margeurite Pitre to buy the dynamite, telling the store clerk her husband wanted to remove some tree stumps.
Guay then convinced his wife to take the trip from Quebec City to Baie Comeau to pick up a box of jewelry he needed for his faltering business.
Apparently Rita was reluctant to go and there was a heated discussion in the departure area but she eventually boarded the plane just as Marguerite arrived in a taxi with a last minute package for the flight. It was placed in the baggage hold even as the engines were warming up.
The departure was scheduled for 10;20, but left at 10;25., the delay caused by the argument. That delay of just a few minutes would soon prove to be the conspirators undoing.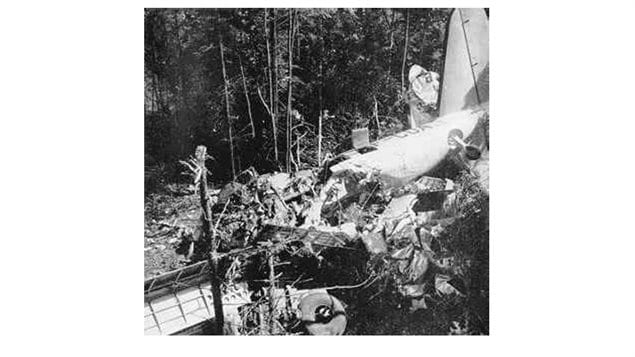 Albert already had a $5,000 insurance policy on his wife, but also that day had purchased an additional $10,000 accidental death policy.
Twenty minutes later, the Canadian Pacific Airlines DC-3 blew up in the sky killing Rita, and the 18 other passengers, including 4 children, and the 4 crewmembers.
It was the deadliest plane bombing to date.
The bomb had been timed to go off when the plane was over the St Lawrence river which would have made recovery of evidence virtually impossible at the time, but the 5 minute delay meant the wreckage came down over Cap Tourmente, on land.  Fishermen in the river had heard the bomb and saw the smoking wreckage plummet to the ground. They were able to point out where the plane went down and investigators soon found the scene in the forested area.
The remains of the passengers were collected and Albert feigned deep sorrow, buying a huge floral cross for his wife's funeral.
Investigators however immediately felt the crash was mysterious and it wasn't long before they knew it was a bombing.
They began to focus on the mysterious last-minute package, and the woman in black who had insisted it be put on board. They found the taxi driver and tracked it back to Marguerite who told police she the package contained a statue  given to her for delivery by local jeweler, Albert Guay.
When Guay found out he encouraged her to commit suicide as she would be blamed for the horrific crime and suffer the greatest shame and consequences. She took sleeping pills in an botched attempt, but while recovering admitted to police she knew that it was a bomb and about Guay's plans.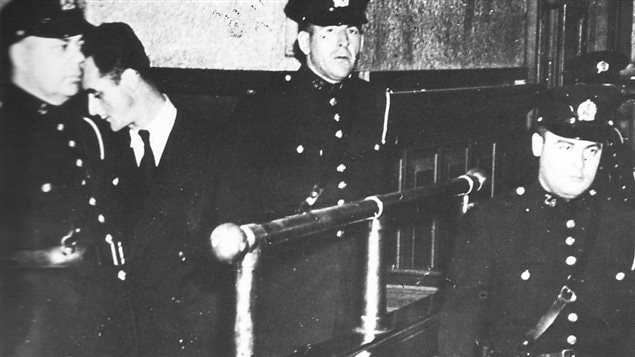 Guay was arrested on September 23, and charged with mass murder. A jury found him guilty in January of 1950. As he imposed the death sentence the judge apparently said, "Your crime is infamous: it has no name," With Marguerite testifying against him, he turned on her and Ruest saying they were knowing accomplices.
Albert Guay was hanged on January 19, 1951. In a dark foreshadowing of today's celebrity seeking mass murderers and murders of famous people, he is reported to have said just prior to his death, "au moins je meurs celebre" (at least I die famous)
Ruest and his sister were then also charged. Ruest claimed he didn't know the bomb would be used to kill people, although evidence was presented that he went to a nearby hotel where he could see the plane leaving.  He was found guilty and hanged for his role in July 1952. Marguerite continued to claim innocence and appealed all the way to the Supreme Court, but failed.
She was the 13th and last woman hanged in Canada, on  January 9, 1953