"No matter what anyone says during this long federal election campaign, climate change is the biggest threat to Canadians' health, security and economy," writes David Suzuki, an award-winning scientist, environmentalist and broadcaster. "Vote for a better, cleaner Canada," he urges in a piece published today.
'Scientific evidence is incontrovertible'
The science is incontrovertible, he says. "Wastefully burning fossil fuels at such a rapid rate is jeopardizing the planet's life-support systems—harming human health, destroying landscapes and habitat, causing widespread extreme weather events and contributing less to the economy and job-creation than clean energy development."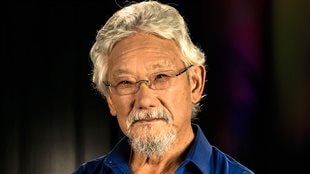 Canada chastised for obstructing climate summits
Suzuki notes that Canada has been chastised for obstructing progress at climate summits and working to water down agreements, and he argues that at the next UN climate summit in December "we need our government to play a responsible, constructive role."
Voters urged to question candidates
Canada is in the midst of a federal election campaign and Suzuki says although the issue of climate change has been raised, "talking points don't always match the severity of the problem." He says it is up to voters to question candidates and inform themselves about the various parties' positions before they cast their ballots on October 19th.