Everyone hoped it would not come to this, but the storm clouds had been brewing for years
The Munich Agreement of September 1938, signed by England, France, Germany, and Italy, had allowed Nazi Germany to occupy the "Sudetenland" portion of Czechoslavakia in an effort to appease Hitler and avoid war. Czechs had not been invited to the conference and the deal broke another agreement, that of a military alliance the country had with France and Britain.
"The peace in our time" statement of British Prime Minister Neville Chamberlain while he held aloft a copy of the agreement with Hitler, did not last long at all. Within a year, Germany had occupied the rest of Czechoslovakia, and invaded Poland. Britain was now cornered by another treaty, with Poland, and declared war on Germany on September 3rd.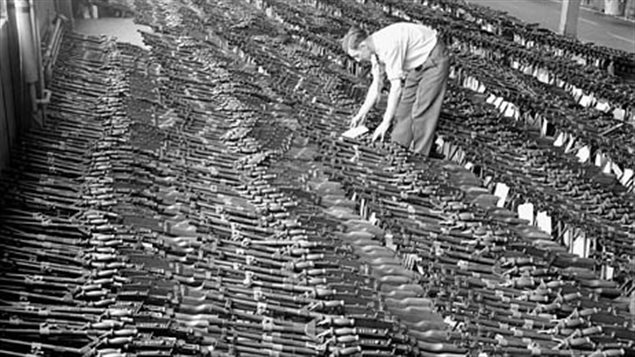 Unlike in WWI, this time Britain's declaration did not automatically include Canada.  Although there was never a doubt about Canada's commitment, Canada's then Prime Minister Mackenzie-King wanted to assert Canadian independence on the issue and delayed an announcement for a week.
On September 7, a special two-day session of the Canadian Parliament was called and gave approval for joining the war.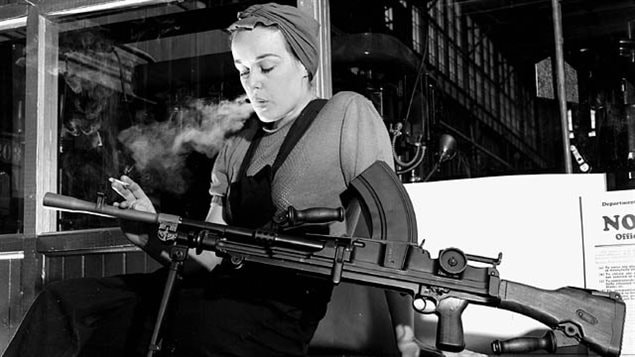 Canada mobilizes before Britain
The official declaration of war on Germany was made following the sessions, and announced publicly on September 10. 1939
What is little known is that Canada had already begun a partial mobilization in August, well before Britain. In fact the Canadian Active Service Force was mobilized on September 1, two days before the British declaration of war, and well before its own declaration on September 10;
Even so, Canada was ill-prepared with a standing army of only about 4,500, and few dozen mostly outdated aircraft, and six ageing destroyers.
A nation of only about 11 million at the time, Canada soon had one million citizen volunteers in uniform. Many other Canadians had been signed into the British Royal Air Force or served with the British army and navy.
A mostly agricultural nation at the time, Canadian industry grew exponentially and turned almost exclusively to war manufacture.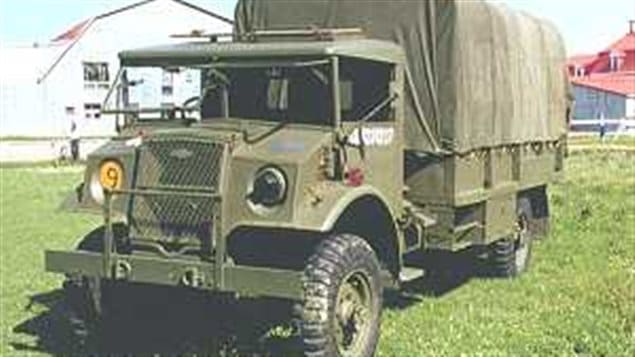 Canada produced literally millions of machine-guns, pistols, and rifles, many millions more of ammunition and shells, along with artillery pieces, naval guns, warships, armed and unarmed cargo ships, bombers (eg Lancaster), trainers and fighters (eg Hurricane, Mosquito), tanks and armoured vehicles, communications equipment, uniforms and webbing, medicine and equipment, and hundreds of thousands of cargo and specialized military trucks as well as creating the largest air-crew training programme in history. Canada also supplied vast amounts of desperately needed food and fuel to England and the entire war effort.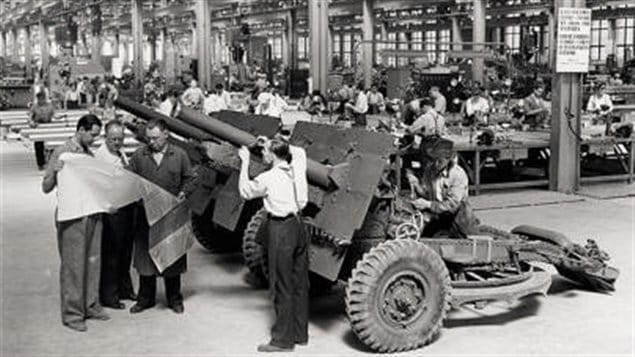 By the end of the war in Europe, Canada's participation and contribution proved to be critical to the victory.
The nation had been transformed into a manufacturing powerhouse, and was fourth in the Allied production of war materiel. From virtually nothing in 1939, by 1945 Canada had created the fourth-largest air force, and fifth largest navy in the world. It's contribution in materiel, and in the outstanding daring and courage of its military on land, sea and in the air, earned it a place at the table among the most powerful nations in the world.