Scientists had to squeeze through several narrow rock fissures in South Africa to find the remains of 15 creatures related to humans. The newly-found species has been named naledi after the Sesotho word for "star," and genus is Homo, the same one to which humans belong.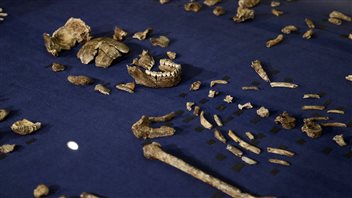 A 'bizarre' mix of characteristics
The Naledi bones exhibit what some experts call a "bizarre" mix of primitive characteristics and others that resemble those of humans.
Spelunkers exploring a network of caves called Rising Star first stumbled across the bones and took some photographs. After viewing them, Canadian Marina Elliott became the first of a small group of paleoanthropologists to go in.
'A little bit terrifying'
"It was quite different to go into that space for the first time," she said. "It's very quiet. It's very dark. It smells like moist soil. And just everywhere I shone my headlamp I could see bone fragments. It was just phenomenally exciting. And a little bit terrifying."
Listen
About 1,500 bone fragments were found belonging to 15 individuals from small infants to older adults. The average height of an adult was about 165 cm. They were lightly-built with long arms and legs, and had small heads with brains one-third the size of humans.
Possibly a body disposal site
It's not clear how old the bones are and that will make it difficult to figure out how this new species fits in to human evolution. Researchers theorize the cave was intentionally used as a body disposal site. This is likely to be the subject of much debate.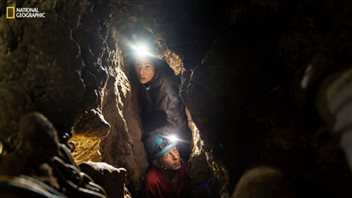 'Human family tree is much bushier'
Naledi's anatomy suggests that it lived at or near the root of the Homo group, which would make the species possibly 2.5 to 2.8 million years old. While that's not clear, Elliott says what the find "does do in terms of…understanding our origins is reinforce the idea that there were multiple Hominims in the same area (and) that the human family tree is much bushier than we ever anticipated."