Volkswagen Canada, is joining company colleagues around the world in having to deal with the fall-out brought on by revelations of emissions-rigging.
"Volkswagen's cheating on emissions testing was discovered by accident."
George Iny, director of the Automobile Protection Association of Canada, says Volkswagen is the largest seller of diesel passenger vehicles in Canada, and has been for a couple of decades now. But will that change in the wake of the revelations today that the actions were deliberate?
Not necessarily according to George Iny. Test rigging is not unusual. "Consumers who buy new vehicles know when they come home, the published number is often whimsical or fantastic compared to the real number that the vehicle consumes.  But they kind of just shrug. This time around the EPA wasn't prepared to shrug." Iny says.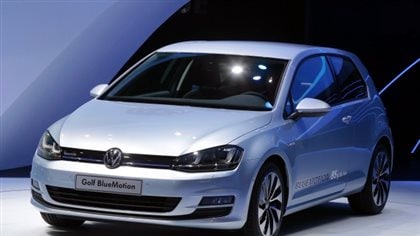 Environment Canada had started an investigation into the use of a "defeat device" to get around emissions testing rules to determine if there had been a violation of Canadian law.  100,000 Volkswagen and Audi four-cylinder diesel cars of the model years 2009-2015 were sold in Canada, it said.
"VW diesel owners were calling to defend their cars"
"Volkswagen could issue an offer to buy your car back at market value plus a certain per cent."  He says, however, "what happens in practice is very few people, after the initial outrage passes, actually do it. Most people are happy with their purchase."
On open-line radio programs today he says, "VW diesel owners were calling to defend their cars. They were saying everybody cheats. We're not surprised and we like our car cause it doesn't use a lot of gas."  Iny says, "We need to recognize that people are very loyal to their brand and that maybe some of them would actually prefer a vehicle polluting more but using less fuel"
When asked about the public trust, George Iny says this pales in comparison to what GM had to deal with when it was discovered that faulty ignition switches caused the deaths of over 100 people.  "The companies bounced back, paid a billion dollars, had to pay more than that in settlement money and we're confident that Volkswagen will bounce back."
The company's stock price was down almost 20 per cent today, chopping the market value of VW's stock by more than $19 billion Cdn.
The U.S. Justice Department launched a criminal probe and several law firms announced plans for class action lawsuits against Volkswagen Group of America, Inc. In Canada there are class action suits in the works and for further information, the APA will have links.
In Canada, the affected diesel models include:
The VW Jetta — model years 2009-15.
The VW Golf — from 2010-15.
The VW Beetle — from 2013-15.
The VW Passat — from 2012-15.
The VW Golfwagon/Sportwagon — from 2009-15.
Diesel-powered models account for 22 per cent of VW's Canadian sales.