Efforts are underway at a western meeting of aboriginal groups to increase the number who will vote in the October 19th federal election. Elections Canada says just half of eligible voters living on native reserves actually cast a ballot in the last election in 2011.
Many who choose to not vote do so because they believe it would breach their First Nation's treaty with the Canadian government. They see their nations as distinct from the Canadian government.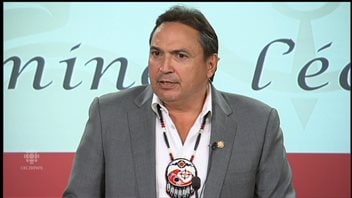 Leader too was torn
Recently the head of the Assembly of First Nations, Perry Bellegarde urged native people to vote in huge numbers. At first, he said he was not sure he himself would do so, but after consulting elders he decided he would. The assembly has identified 51 electoral ridings were a large native turnout could made a difference in the outcome.
To vote or not to vote was a hot topic at the annual gathering of 13 First Nations in the western province of Saskatchewan. The riding of Regina-Qu'Appelle is home to a potential 13,000 first time voters.
'We need to rise up'
"We need to rise up, vote, and then we're having a say, we're taking a stand and having a strong say in who forms the next government." said community organizer Allison Dubois from the Pasqua First Nation.
The riding has been held by Conservative Member of Parliament Andrew Scheer since 2004. He won the last election by over 4,000 votes but activists hope an increased indigenous vote could make a change.