There is huge excitement at the Toronto Zoo this week, as two new members came into the world.
The zoo's female giant panda Er Shun, gave birth to twins in the early hours Tuesday and staff happily reported her maternal instincts kicked in quickly.
Even so, the next several days are critical to the babies survival and so experts have been flown in from the Chengdu Research Base of Giant Panda Breeding in China, in addition to Toronto Zoo staff.
It's unknown what gender the cubs are as much of the development occurs after they are born
The father is also unknown at this point as Er Shun became aggressive toward the zoo's male panda Da Mao in a natural breeding effort.  Artificial insemination was used in May of this year involving sperm from Da Mao and frozen sperm from two other males in China.
Knowing who the father is becomes important for managing panda relatedness.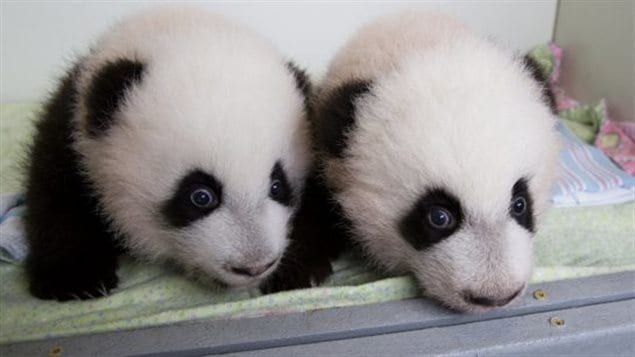 Breeding giant pandas is difficult as females are only receptive to breeding once a year and then for a mere 24-72 hours.
The cubs will remain isolated from the public for the next four to five months..
One million dollar "rental" fee for pandas and more
While the Pandas are "on loan", they are actually rented from China at fairly expensive costs. The Toronto Zoo pays one million dollars each year to China as a "hosting" fee.  The Zoo also spent 3 million renovating the panda shelter which used to be for tigers.
The Guardian: pandanomics: costs and trade deals
Food is expensive as well costing the Toronto Zoo about $550,000 a year for bamboo shoots to be shipped by courier from the Tennessee zoo where they can grow the plant.
Add to that almost $250,000 in staffing costs, and another $150,000 in panda insurance.  It works out roughly to over $2.5 million per year.
The newborns will cost an additional $600,000 each annually in "hosting" fees to China. It is unknown if the cubs will remain in Canada as negotiations are apparently ongoing. Typically cubs are returned to China after two years.
The adult Pandas will be in Toronto until 2018, before moving to the Calgary Zoo.