Martin Beauregard and Valerie Burnet are an unlikely pair.
Beauregard, a 48-year team leader at a Montreal financial institution, has been confined to a wheelchair all his life.
Burnet, 25, is vibrant community activist with a bent to making things better.
Together, they accomplished something pretty special this weekend.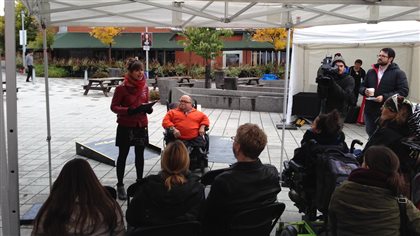 Beauregard refers to it as a "little gesture."
It was anything but.
On Saturday, they oversaw the placement of access ramps at 15 stores and businesses in the Hochelaga-Maisonneuve section of Montreal.
All were installed free of charge, on the house.
These were ramps Beauregard and Burnet commissioned, ramps that will help people with disabilities, ramps that send a signal that there are a lot of people who still care about making things right, ramps that will likely have a positive effect on the bottom lines of 15 businesses.
And Beauregard and Burnet are just getting started. If they can raise the needed funds for AXCS, the non-profit they have founded, they hope this weekend's ramps are the first of 500 in all corners of the city.
On Monday, Beauregard spoke to RCI about the project.
Listen