The power and majesty of Niagara Falls has held millions of visitors in awe since it was first viewed by man.
The first European to see them, Father Louis Hennepin in the winter of 1678-79, later wrote,
.".Betwixt the Lake Ontario and Erie`, there is a vast and prodigious Cadence of Water which falls down after a surprizing and astonishing manner, insomuch that the Universe does not afford it's parallel……. "….'This wonderful Downfal, is compounded of two great Cross-streams of Water, and two Falls, with an Isle sloping along the middle of it. the Waters which fall from this horrible Precipice, do foam and boyl after the most hideous manner imaginable, making an outrageous Noise, more terrible than that of Thunder; for when the Wind blows out of the South, their dismal roaring may be heard more than Fifteen Leagues off."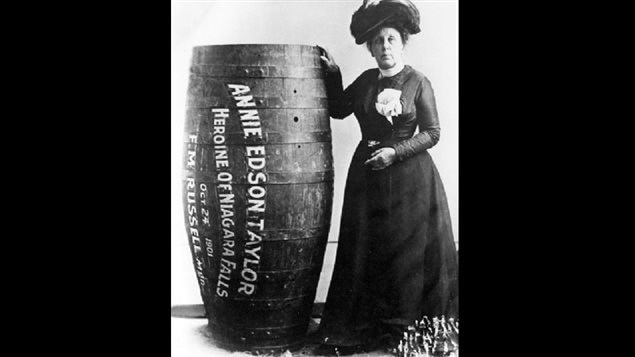 Not content to merely be awed by the incredible power, many have challenged the Falls, and too often with tragic results.
By 1901, there had been several stunts of swimming across the river, crossing on a tightrope,  and boating through the violent rapids below the Falls, most of which were successful, some alas, not.
However in the autumn of 1901, a new stunt was attempted.
American Anna Edson-Taylor, had been widowed early in life, and had wandered from  New York to Michigan, Texas, and Mexico, working alternately as a school teacher, music teacher, and dance instructor.
October 24th was her birthday. Now 63, she was looking for a way to secure funds for her later years, when she came up with the scheme to challenge the mighty Falls itself.
She would seal herself in a barrel and go over the Falls.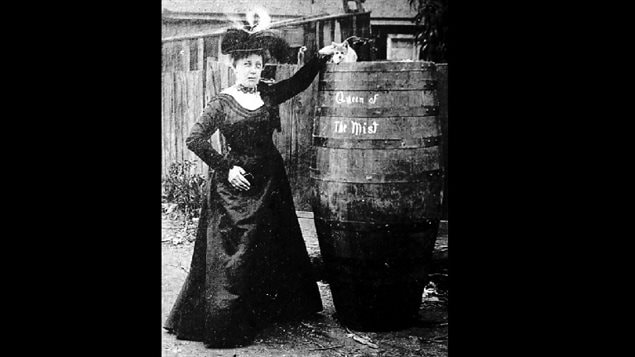 Although not stated, one might presume she was nearing financial desperation at this point in seeking to attempt such a dangerously foolhardy act.  The Pan-American Exposition was being held in nearby Buffalo, New York and she hoped to attract large crowds and make money from the attempt.
First person, first woman to tempt the Falls.
She had a special oak barrel built, and stuffed a mattress inside, but at first no-one wanted to help her in what everyone thought would surely be a suicidal stunt.
To test the possibility of survival of both the barrel and someone inside, she first sent a cat over the Falls. The cat survived, albeit with a gash on its head.
And so it was that in the afternoon of October 24, on her 63rd birthday, she climbed into her barrel above the Falls whereupon the lid was screwed down. The contraption was towed by rowboat into the current from the American side and cut loose to float downriver.
At 4.30 it was seen bobbing in the current at the lip of the mighty Canadian Horsehoe Falls.( a children's book called "Queen of the Falls", mistakenly shows a drawing of her barrel going over the American Falls. Had that been the case, both she and the barrel would have been smashed to pieces on the huge pile of boulders at the base)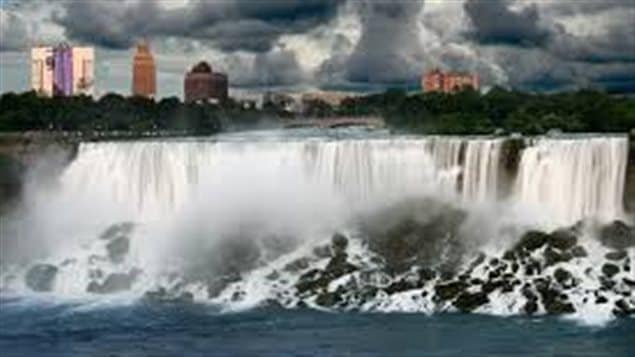 A minute later it was spotted below the Falls, and several minutes later, rescuers pulled the barrel to shore. Much to their surprise,  when they opened the barrel, she was alive and unscathed, becoming the first person and first woman to go over the Falls in a barrel and survive.
She later reported to the press,  "If it was with my dying breath, I would caution anyone against attempting the feat… I would sooner walk up to the mouth of a cannon, knowing it was going to blow me to pieces than make another trip over the Falls."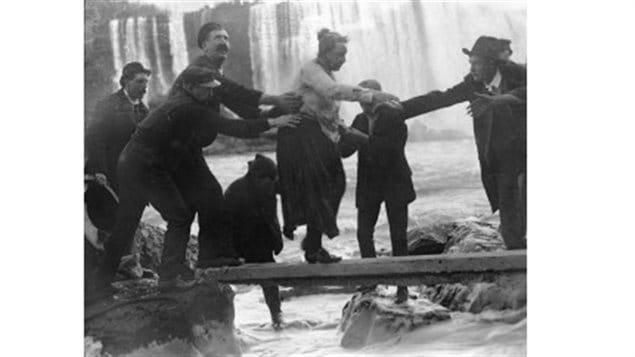 No real financial gain.
Although the attempt had been made to secure her financial future, such was not the case. She initially made some money in speaking engagements, although most of that was later spent hiring detectives to find her barrel which had been stolen by her manager. She spent her final years posing for tourist photos at a small souvenir stand, and also working as a clairvoyant and offering magnetic therapeutic treatments.
She later talked briefly of making a second plunge and of writing a novel, but sadly, she died in poverty in Lockport New York near the Falls, on April 21, 1921 at age 82.