Scratch Jean Charest from the Conservative Party's upcoming leadership race.
The former Progressive Conservative leader and long-time Liberal Party premier of Quebec says he's not interested.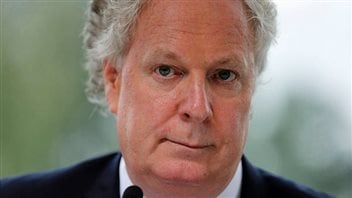 In a email from Paris, Charest told Radio-Canada on Thursday he is very happy at Montreal law firm where he now works, one that is of the white shoe variety.
Charest was first elected to the Commons in 1984 under Brian Mulroney and became PC leader in 1993 after the party was reduced to a rump of two, following the 1993 general election won by Jean Chretien's Liberals.
After playing a major role in the 1995 Quebec sovereignty referendum, he moved to Quebec politics in 1998 as leader of the provincial Liberal Party before being elected premier in 2003.
He served nine years in the post before quitting public life in 2012 after the Liberals were defeated by the Parti Quebecois.
Potential leadership hopefuls are said to include  Jason Kenney, Tony Clement, Kellie Leitch, Lisa Raitt, Maxime Bernier and Michelle Rempelle. All served as ministers or junior ministers under Stephen Harper, who announced Monday he was resigning as leader. On Wednesday, the New York Times anointed Kenney as the frontrunner.
Saskatchewan Premier Brad Wall has already ruled himself out of the running.