During the election campaign, Liberals promised better treatment of veterans and now that they are in government, advocates plan to hold them to it. "I'm very excited. We have a new sense of hope and optimism in the veterans' community and we're hoping to build on that," says Mike Blais, president and founder of Canadian Veterans Advocacy.
Listen
Reverse policies, say advocates
The previous Conservative government brought in several measures which outraged veterans' groups. Among them, they changed the provision of a monthly allowance for those suffering physical injuries and psychological trauma. Veterans applying for the benefit after 2006 were instead given a lump sum of $250,000, effectively creating two classes of veterans.
The Conservatives closed nine Veterans Affairs offices. The Liberals promised to hire 400 new service delivery staff and to reopen those offices.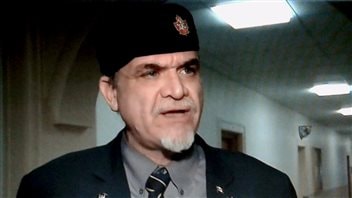 A need to prevent suicides
Liberals also promised to spend $1.2 billion over the next for years re-establishing mental health facilities and providing college and university tuition for veterans after they leave the military. More veterans have died of suicide than suffered combat-related death in the war in Afghanistan, and Blais says that proves the need for better care and support.
Liberals also pledged $100 million for family support for caregivers who are often the front-line workers in identifying those in trouble and getting veterans help.
Disability helps minister understand struggling vets, says advocate
"There are many positive things that have been brought forward—things that we as an advocacy (group) have fought to have included in their election platform," says Blais. "And we damn well plan on making sure that (Prime Minister) Mr. Trudeau and the Liberal government fulfills his promise."
The new Veterans Affairs Minister Kent Hehr was shot years ago, went through extensive rehabilitation, and now gets around in a wheelchair. Blais thinks this gives him a unique understanding of what injured soldiers go through.
'Time for hope'
And, after meeting Hehr, he is even more encouraged. "He said he knew who I was and I told him bluntly, 'then you know why I'm here. Mr. Trudeau promised me he would give you a very strong mandate to resolve these veterans' issues and I have full expectations that those issues will be resolved within the first two years of a Liberal mandate.' And he responded affirmatively. I believe he is going to make the effort to make this happen in an expedient manner.
"Veterans who have been disenfranchised—those who have been living in fear or felt abandoned and felt they had no hope—now, now there is time for hope."