Little over a week after he was sworn in as Canada's new prime minister, Justin Trudeau is getting set for a whirlwind diplomatic tour that would leave even a more experienced leader a bit dizzy.
His diplomatic baptism by fire will take place this weekend (Nov. 15-16, 2015) at the G20 summit in Turkey's Mediterranean resort city of Antalya, where fellow leaders of the world's 20 major economies, including U.S. President Barack Obama, Chinese President Xi Jinping and Russian President Vladimir Putin, will take their first measure of Canada's new leader.
So far, Trudeau has set up bilateral discussions with President Xi, Turkish President Recep Tayyip Erdogan, Mexican President Enrique Pena Nieto and Italy's Prime Minister Matteo Renzi, who at 40 years old is the youngest G20 leader.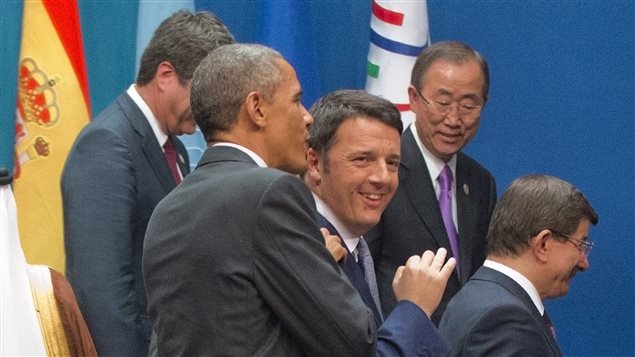 Still, Trudeau will be facing a daunting crowd of political veterans and superpower leaders, all well-schooled in international politics and diplomacy.
Meeting Obama
Then on Nov. 18-19, Trudeau will be in the Philippines for the Asia-Pacific Economic Cooperation (APEC) Leaders' Meeting where he is to meet with leaders from the region and hold bilateral talks with U.S. President Barack Obama, their first meeting with since Trudeau became prime minister and Obama rejected the Keystone XL pipeline.
The two leaders have spoken on the phone at least twice – once shortly after Trudeau was elected and a second time last week, when Obama informed him of his Keystone decision. Trudeau, in turn, has informed Obama he will be pulling out Canadian fighter jets from the U.S.-led aerial bombing campaign against ISIS in Syria and Iraq.
Trudeau flies back to Canada for a different kind of a diplomatic challenge, this one involving Canada's provincial and territorial leaders ahead of the United Nations climate change summit in Paris later in the month. Trudeau has invited the leaders to attend the so called COP 21 summit but getting them to agree on a common strategy for the reduction of greenhouse gases will be easier said than done.
Then on Nov. 27-29: Trudeau attends the Commonwealth Heads of Government meeting in Malta, but on his way there he'll make a stop in London on Nov. 25 for a meeting with the Queen at Buckingham Palace.
Then he takes off to Paris for the COP 21 summit, which will present Trudeau with the most visible platform to set a new tone and course on climate change.
Related stories:
How will Canada's foreign policy change under Stéphane Dion?