Millions of people are taking quizzes on Facebook without realizing may give away a lot of private information that can be bought and spread far and wide across the internet. Sometimes a friend will send a quiz that purports to tell you what kind of cat you are, or how intelligent you are or what words you use most on Facebook. Then the quiz will ask for access to your page.
"What happens then is a third party, not Facebook, interacts with you," says Tom Keenan, a professor at the University of Calgary and author of Technocreep. "They'll ask for permission to go to your Facebook profile. If you give that, they can have access to your name, your age, everything that you've ever posted on Facebook, or your friends and photographs and so on. That's where we have privacy concerns."
Listen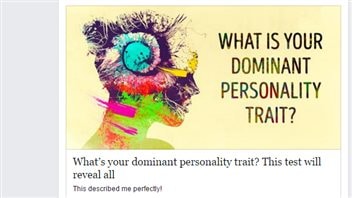 Sharing your personal info with the world
Keenan gives the example of the IQ quiz that invariably tells the taker he or she has a very high intelligence quota or IQ, and then says that  if you want more information to provide a credit card number. If you do, Keenan quips, the quiz was wrong about your intelligence. Sometime people post that they are going away on vacation and that, he says, is an invitation for someone to come and rob the empty house.
Others may take a medical quiz and later find ads pop up on their pages for a product related to an illness they may have revealed.
Check privacy settings, advises author
To counter the problem, Keenan suggests users pour themselves their favourite drink and sit down in front of the computer for about an hour and review the privacy settings in all of their social media—Facebook, Twitter, Instagram or other. He adds that people who can't resist taking quizzes could set up a new Facebook page with a different name and picture on it to avoid revealing the information that is on their real page.
'Be careful'
Reports are that 17 million people have taken the word quiz that's run by a company in South Korea. It promises to not sell the private information it can access about those who take it, but Keenan says it could, and asks do you really trust companies to keep your personal data private.
"Be careful," says Keenan. "Think if you really want the quiz…In this case 17 million people wanted it and I just hope they didn't leak out a lot of information that they wish they had not disclosed to the world."