Well, given that literally tens of thousands of adults turn up each year, and not all have children,  and millions more watch on TV, perhaps simply, longest running Santa parade?
The Toronto Santa Claus parade began in, December , 1904, and was organized, primarily as a marketing tool, by the T. Eaton Co. Ltd.  "Eaton's" department store as it came to be known, was itself a marketing innovation and changed the world of retail completely.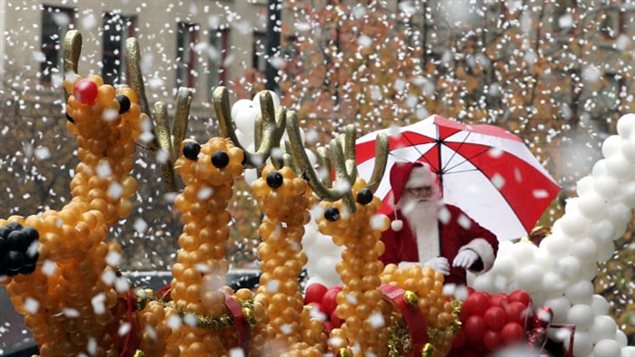 Versions vary slightly but the first "parade" was actually just Santa arriving at Toronto's impressive downtown Union Station and walking with Eaton's family from the station up to the store waving to the crowds and children on the sidewalk.
On this day, December 02 1905, he was then taken by carriage up to the flagship store. Although some say it was a horse drawn Eaton's delivery wagon. "Footmen" and trumpeters were added. The year 1905 is generally credited as the beginning of the tradition.
In 1907, Santa arrived on horseback accompanied by other riders in Santa like or elf like white fur trimmed capes.
As years went by, the event grew, In 1913, Santa was in a sleigh pulled by eight actual reindeer/caribou brought in from Labrador and cared for by a veterinarian who also provided them with a special diet of moss. That year, children began to join in behind Santa creating a sort of march/parade and dropping letters to Santa into baskets carried by Santa's helpers. Each of the letters would later receive an answer.
By 1917, the first large floats appeared, notably a giant goose from the nursery tale of "Mother Goose".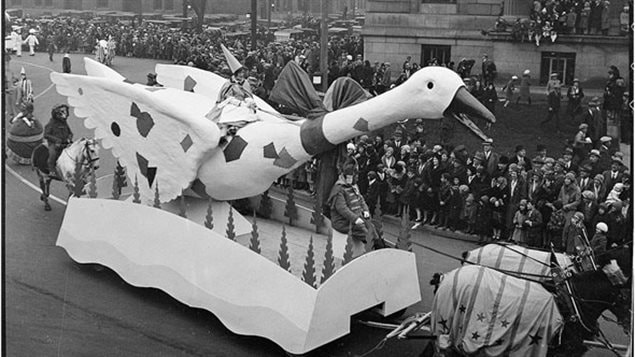 Each year the parade grew with more floats, more bands, and more marchers.
Starting in 1925, the floats would be loaded onto a train and sent to Montreal for their Santa parade. However, in the 1970's that was halted due to terrorist group FLQ and their bombing campaign in Quebec.
Starting in 1952, the parade would be broadcast on CBC television nationally, colour came later, and by the 1970's millions across North America would tune in.  At some point in its history it moved from December to the the third Sunday in November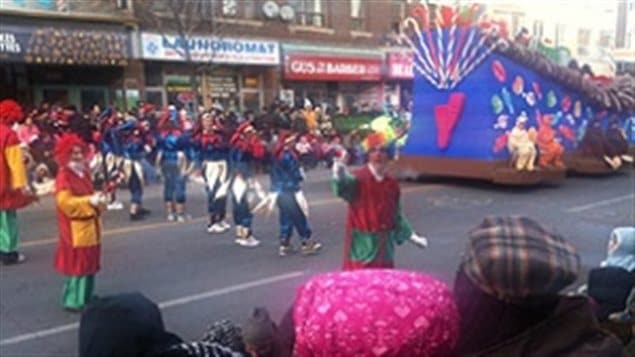 In 1982, Eaton's withdrew it's funding due to economic conditions, but a non-profit committee immediately took over to ensure the continuity.
The giant Eaton's retail empire across Canada soon faded and the company declared bankruptcy in 1999.
The parade it started, now the longest running of it's kind in North America and possibly the world, continues.