The Gahcho Kué diamond mine in the Northwest Territories is more than 80 percent complete and on track to begin production in 2016, Mountain Province Diamonds Inc. announced Monday.
"Key areas of focus over the next six months are commissioning of the primary crusher and diamond plant, as well as preparation for operational readiness," Patrick Evans, Mountain Province President and CEO said in a statement.
Mountain Province Diamonds is a 49% participant with De Beers Canada in the mine, located approximately 300 kilometres northeast of territorial capital Yellowknife.
It's welcome news for the territory, which has been hit hard by De Beers's decision last week to close its troubled Snap Lake diamond mine, laying off  434 employees.
"Mountain Province was advised early last week of the planned cessation of operations at the De Beers Snap Lake mine and the opportunities this would afford selected Snap Lake employees to be hired at Gahcho Kué," the company said in a statement.
Forty-one Snap Lake employees have been transferred to Gahcho Kué and a further 60 will be transferred next year as the mine prepares for production, the company said.
"The regrettable decision relating to Snap Lake will have no impact on plans for the Gahcho Kué mine," said Kim Truter, Chairman of the Gahcho Kué JV Management Committee and De Beers Canada CEO. "On the contrary, Gahcho Kué will benefit from the availability of trained and experienced employees who are being transferred to Gahcho Kué to support operational readiness."
Gahcho Kué is the world's largest new diamond mine and is expected to produce an average of 4.5 million carats a year over a 12 year mine life, the company said.
Diamond superpower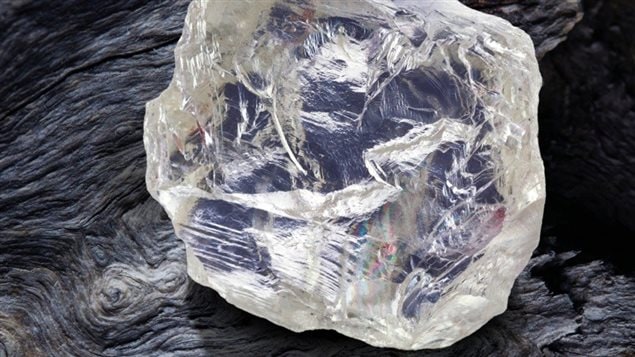 Canada is a relative newcomer to diamond mining. De Beers, the world's leading diamond company, started prospecting for diamonds in Canada in the early 1960s. In 1987, a second year geology student Brad Wood who was working for De Beers stumbled upon kimberlite rocks, volcanic rocks that sometimes contain diamonds, while fishing on Attawapiskat River, in the James Bay lowlands of Northern Ontario. The site would eventually become today's Victor Mine.
But it wasn't until 1991, when two enterprising geologists, Stewart Blusson and Chuck Fipke, discovered large diamond deposits in the Lac de Gras region of the Northwest Territories that the word learned of Canada's Arctic diamonds.
Diamond production at the Anglo-Australian mining giant BHP Billiton's EKATI Mine in the Lac de Gras region, about 300 kilometres northeast of Yellowknife, started in 1998 (Fipke and Blusson, each hold a 10 per cent share in the EKATI Mine). In 2003, Rio Tinto, another giant British-Australian mining and metals company, opened its Diavik Mine not far from EKATI. And in 2008, De Beers opened its first Canadian mine at Snap Lake about 220 kilometres northeast of Yellowknife.
Ontario joined Canada's diamond club in 2008, when De Beers started commercial diamond production at its Victor mine, about 90 kilometres west of the First Nations community of Attawapiskat, in northern Ontario. And Quebec is expected to join Canada's diamond producing club once the Renard Mine owned by Stornoway Diamonds becomes operational in 2016.
In less than a decade, Canada was propelled to the diamond mining major leagues, becoming the world's third-largest producer, behind Botswana and Russia, producing 15 percent of the world's diamonds by value.
Related stories:
Diamonds fuel the Northwest Territories' economy