A Canadian man is pleading with Prime Minister Justin Trudeau and Foreign Affairs Minister Stéphane Dion to intervene with Egyptian authorities in the case of his sister, her husband, and the couple's four Canadian children, trapped in Egypt in a Kafkaesque legal limbo.
Ahmad Attia said Thursday his sister, Sarah, a Canadian citizen, has been stuck in Egypt after she travelled there with her four children to bring her husband, Khaled Al-Qazzaz, a former aide of deposed Egyptian President Mohamed Mursi and a Canadian permanent resident, back to Canada.
Listen
Al-Qazzaz was never charged by Egyptian authorities and was eventually freed in January after spending 18 months in solitary confinement in a Cairo prison. He needs urgent back surgery because of the damage done to his spinal disks by being forced to sleep on a concrete floor, said Attia.
Payback for speaking out
But now Egyptian authorities seem to be retaliating against Sarah for launching a vociferous campaign to have her husband released, he said.
"She was detained with her children at the Cairo airport twice without legal justification and a travel ban was recently issued against her husband without cause," Attia said. "Her savings, intended to cover her husband's medical surgery were confiscated, and the government has ordered the closure of her bank accounts."
The most worrying aspect of the situation is that the Egyptian authorities continue to delay granting her a visa extension – a requirement for any Canadian residing in Egypt. Without the visa Sarah is now in legal limbo in Egypt as she cannot leave the country, Attia said.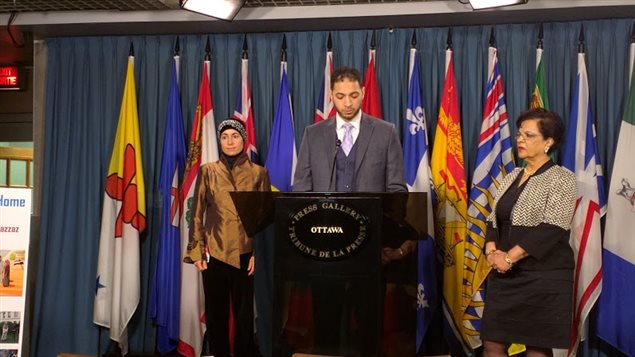 'I am now Sarah's voice': Ahmad Attia
Flanked by Canadian Senator Mobina Jaffer and family friend Nadia Abu-Zahra, a professor at University of Ottawa, Attia held a press conference in Ottawa Thursday morning to demand the intervention of Canadian authorities.
"My message was that the prime minister can he please pick up the phone and call President Sisi and ask  him to help to put these children and family on the plane before Christmas," said Jaffer who first volunteered to help Sarah Attia after her husband's arrest following the military coup against Mursi.
The situation can no longer be resolved by the extensive and active efforts of the Canadian ambassador, as well as the Egyptian ambassador here in Canada, said Attia.
"We believe that the prime minister needs to make a phone call or the foreign affairs minister needs to make a phone call," said Attia speaking on the phone from Ottawa. "But I believe personally that the prime minister is the key and that he needs to call the authorities in Egypt and express that this is a concern for Canada, express that it's unlawful to hold a Canadian citizen without cause, and that the ordeal of this Canadian family must come to an end."
In response to RCI's request for comment on the family's case, the Department of Foreign Affairs issued a terse statement saying, "The Government of Canada is aware of their situation. Canadian officials, including at the Embassy of Canada to Egypt, have been following recent developments closely and remain in regular contact with them."