Media and the fashion industry now call them "plus-sized" models.  In fashion circles, in television adverts, and even television shows, there are more and more images of people who would previously be labelled overweight, fat, and in some cases obese.
Two researchers conducted a series of experiments and found that exposure to these body types in the media leads to the perception in people that being overweight or obese is socially acceptable, and may lead to unhealthy lifestyle choices in people.
Co-author Brent Mc Ferran is an Assistant Professor of Marketing at Simon Fraser University with the Beedie School of Marketing, Burnaby, British Columbia.
Listen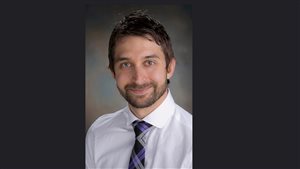 The series of experiments were carried out by Professor McFerran and Lily Lin, assistant professor at College of Business & Economics at California State University.
The research was published by the American Marketing Association's Journal of Public Policy & Marketing under the title, "The (ironic) dove effect: Usage of acceptance cues for larger body types increases unhealthy behaviors"
The Dove effect refers to a marketing campaign by the Dove company called the Campaign for Real Beauty. It came about following an international study  (Etcoff, Orbach, Scott, & D'Agostino, 2004) which found that a mere 2% of women described themselves as beautiful. The campaign presented images of a variety of women including older women with wrinkles and women who were overweight with the idea that beauty should not be limited to thin young models presented as being beautiful.
Professor McFerran points out that the fashion industry has been long criticized for using unnaturally thin models, and says many studies have been conducted and found negative psychological and physiological  effects of that, but that this study is one of the very few that are beginning to look at the other side of the equation, that of overweight models and TV images and accompanying messages indicating this is normal and OK.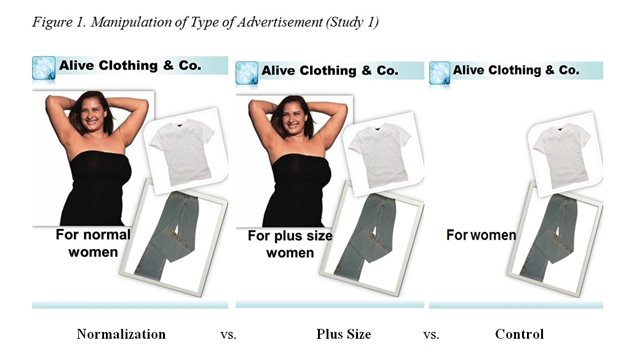 In their research McFerran and Lin  conducted a series of five experiments and some 800 subjects to test their reactions to various cues suggesting being overweight or obese was an acceptable condition
They found that exposure to images of the plus-sized models resulted in their test subject's opinions that obesity was "not such a problem" and that steps to resolve a weight problem "are less important".
The models the researchers used were all classified as medically obese, having a body mass index (BMI) of over thirty.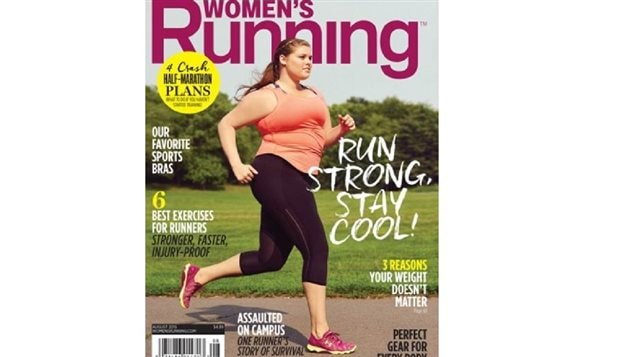 McFerran says that it was especially the images in combination with messages that hinted that it was OK and socially acceptable to be overweight or obese that were particularly of concern and  linked to unhealthy behaviours.
He points out that shaming overweight people is certainly not helpful in trying to motivate them to improve body health and in no way advocates that, but that the current trend of promoting excess weight models also has negative effects.
Additional information