At this time of year, many Canadians begin to panic because they haven't started shopping for Christmas presents. On and around December 25th people exchange gifts even though they may not be practicing Christians or Christian at all.
There is a certain amount of bleating about the excesses of our consumer society and for those who feel guilty there are several alternatives suggested by charitable organizations. World Wildlife Fund Canada (WWF-Canada) offers such a program which involves symbolically adopting an animal like an elephant, a snow leopard, a giant panda or a sea turtle.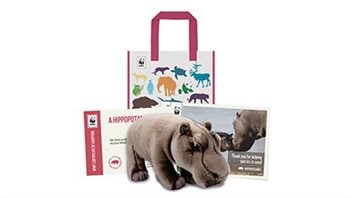 "Adoption kits" support broader campaigns
One can go online and choose and pay for "an adoption kit" which includes a personalized adoption certificate, a cute plushy, a poster of the animal, a tote bag, a pamphlet about the work the donation will help support, and an official receipt which can be used for income tax purposes. (Canadians get deductions for contributions made to registered charitable organizations.)
Donations fund general campaigns
The funds collected do not go to support the particular animal chosen, but to general campaigns to protect species and habitats. For example, adopting an Arctic species like a polar bear, beluga whale or Arctic fox helps conserve arctic habitat through work with governments and indigenous groups, and work to build a sustainable Arctic economy.
Bid to save administration costs
If funds were funneled to a particular species, that would involve more administration costs and less money actually going to conservation. So, the animal adoptions are symbolic but the funds collected are used by WWF to protect species in need in Canada and around the world.