Police are warning people to be on the lookout for a herd of as many as 100 bison roaming free near Tisdale, a town in the western province of Saskatchewan. Bison are shaggy, horned animals and, at an average 725 kilograms, they are North America's largest land mammal.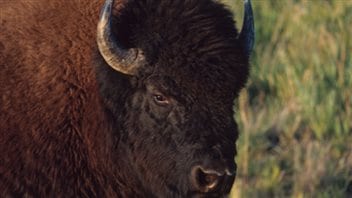 Millions roamed the great plains
They used the roam the vast grasslands in the heart of the continent in the millions and provided sustenance to indigenous populations including food, shelter clothing, utensils and ornaments. It's estimated there may have been 60 million bison before Europeans arrived and began slaughtering them. By 1899, there were fewer than 1,000 left.
Now bison herds are protected in parks, some roam free in northern Canada,  and, on ranches they are raised for their meat. It's believed the animals now on the loose may have escaped through broken fences. While they do not seek out and kill humans, you would not want to be in the way of a moving herd or run into one as you drive down the road.
Bison  said to 'love adventure'
Ranchers say it may be difficult to find the herd as the animals are good at hiding and can run away quickly if someone gets too close. As for where they are going, that's anyone's guess. Rancher Les Kroeger told CBC news they have an innate love of adventure.
"They like exploring. They're very curious, so they might go for quite a long run. Typically animals do want to go back to close to their normal home property. They often don't stray too far away, but if the whole group gets out they can start moving as a group and they can cover an incredible amount of distance in a short period of time."