The cost of living in Canada went up by 1.6 per cent in December driven by higher prices for food, shelter and transportation, Statistics Canada said Friday.
The transportation index, which includes gasoline, registered its first year-over-year increase since October 2014, despite falling oil prices, the agency said.
All eight subsectors the agency tracks in calculating the inflation rate went up during the month, led by increases in food prices.
Canadian consumers paid 3.7 per cent more for food in December compared with the same month a year earlier. Prices for food purchased from stores were up 4.1 per cent year over year in December, following a 3.7 per cent increase the previous month.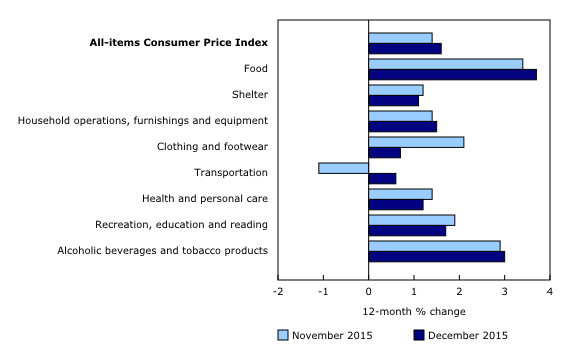 The agency attributed the acceleration to the prices of fresh vegetables and fresh fruits.
The clothing and footwear index was up 0.7 per cent year over year in December, after rising 2.1 per cent in November.
The report said consumer prices increased in every province last month compared to the year before, with British Columbia seeing the largest gain, and the Yukon Territory seeing the least increase.
The core inflation rate, which excludes some volatile items such as gasoline, was up 1.9 per cent last month, slipping below the two per cent mark for the first time since July 2014. The core rate is followed closely by the Bank of Canada.
Statistics Canada also released its year-end review for 2015, which showed the country's annual average increase in inflation was 1.1 per cent.