Canadian authorities will not deal with Hezbollah in Lebanon as they prepare to deploy military advisers to the country as part of Ottawa's new strategy of fighting the Islamic State in Iraq and Syria (ISIS), Canada's Defence Minister Harjit Sajjan said Thursday.
Sajjan's comments came in response to questions about the government's plans to deploy up to 100 Canadian soldiers to Lebanon and Jordan to help their respective militaries to counter the threat posed by ISIS.
"We will only deal with the legitimate government of Lebanon and will not deal with Hezbollah," Sajjan said speaking to reporters from Brussels, where he is attending a high-level NATO meeting.
Sajjan said Canadian Armed Forces will work with Jordanian and Lebanese authorities on capacity building to help them counter the threats they face on their borders with Syria.
But avoiding indirect contacts with the Shia militant group, which is considered a terrorist organization by Canada and most of Western countries, is easier said than done.
Influential player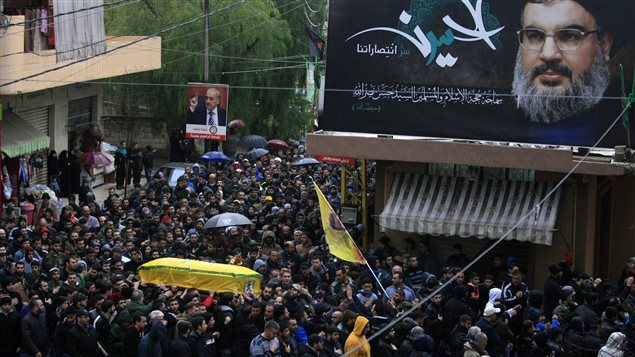 Hezbollah is one of the most influential political forces in the tiny eastern Mediterranean country, it's been part of successive Lebanese governments from 2006 with at least two cabinet ministers.
Currently the two main presidential candidates, Michel Aoun and Suleiman Franjieh, have close ties with Hezbollah even though they represent Lebanon's Maronite Christian community.
Hezbollah's armed wing and the Western-backed Lebanese army cooperate with each other as they patrol Lebanon's border with Syria to prevent incursions from ISIS and al-Qaeda offshoot Al-Nusra front.
Hezbollah has been heavily involved in the civil war in neighbouring Syria, fighting on the side of President Bashar Al-Assad and the Iranian Revolutionary Guard Units, against both, the Syrian moderate opposition, as well as ISIS and other Al-Qaeda offshoots.
In fact, cooperation with the Lebanese care-taker government, which includes two Hezbollah ministers, has been essential for the Liberal government's effort to identify and resettle thousands of Syrian refugees from Lebanon.
"Canada listed Hezbollah as a terrorist organization in 2002 and currently has a no-contact policy with its members," Global Affairs Canada spokesperson Rachna Mishra wrote in an email statement. "This does not affect other members of the Lebanese government with whom we have and will continue to closely cooperate."
Canada also plans to beef up its diplomatic presence in Lebanon and Jordan to play a more decisive role in finding a political solution to the conflict in Syria.
Good feedback
Feedback on Canada's expanded anti-ISIS plan from NATO allies has been "quite complimentary," Sajjan said.
U.S. Army Lt. Gen. Sean MacFarland commended Canada for being "very forward looking" in its approach to tripling the number of Canadian special forces trainers in northern Iraq and expanding its intelligence capabilities, said Sajjan.
MacFarland told him those expanded intelligence capabilities were what he needed to refine his plan to retake Mosul, Iraq's second largest city, from ISIS, as well as having the Canadian trainers conduct training tailored for the operation, Sajjan said.
The plans to send Canadian military liaison officers to Baghdad were also appreciated, he said.
"We have set the example for what the actual mission needs," said Sajjan.