A Canadian warship is deploying to the Aegean Sea as part of a NATO task force to fight the deadly smuggling of migrants between the Turkish mainland and Greek islands in eastern Mediterranean, officials announced Thursday.
Canadian frigate HMCS Fredericton left for the eastern Mediterranean Sea in January as part of Operation REASSURANCE, Canada's contribution to NATO activities in support of its members in Central and Eastern Europe in the face of increasingly assertive Russia.
Jens Stoltenberg, the NATO secretary general, said HMCS Fredericton, as well as a German and a Turkish warship, will conduct reconnaissance and surveillance to help end Europe's gravest migrant crisis since the Second World War.
HMCS Fredericton is part of NATO Maritime Standing Group 2, a flotilla that also consists of German navy flagship The Bonn, and the Barbaros from Turkey.
"This is about helping Greece, Turkey and the European Union with stemming the flow of migrants and refugees and coping with a very demanding situation," Stoltenberg said, calling the situation a "human tragedy."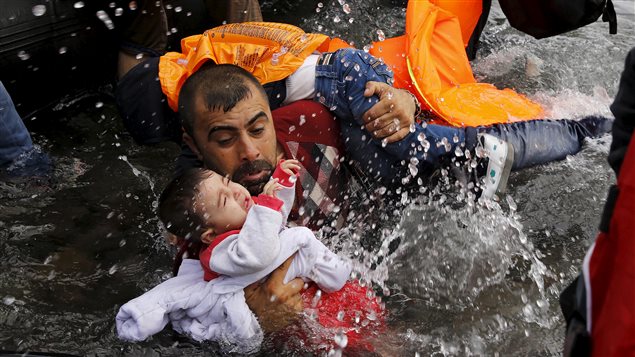 Earlier this week, the International Organization for Migration said 409 people have died so far this year trying to cross the sea to Europe, and that nearly 10 times as many migrants crossed in the first six weeks of 2016 as in the same period last year. Most come from Turkey to Greece and then try to head north through Europe to more prosperous countries like Germany and Sweden.
The three NATO warships will provide "important information" to the Greek and Turkish coast guards and other authorities, Stoltenberg said.
"This is not about stopping or pushing back refugee boats," Stoltenberg stressed. "NATO will contribute critical information and surveillance to help counter human trafficking and criminal networks."
NATO will also step up intelligence, surveillance and reconnaissance activities on the Turkish-Syrian border, Stoltenberg said.
Speaking to reporters from Brussels, where he is attending a NATO meeting, Canada's Defence Minister Harjit Sajjan said the details of what the Canadian frigate and the other warships will do are still being worked out. It's not clear whether the warships will work to intercept the refugee boats and pick up the migrants, and potential human smugglers accompanying them at sea, or whether they will simply use their sophisticated electronics and maritime surveillance capabilities to feed information to the Turkish and Greek authorities.
U.S. Defense Secretary Ash Carter said earlier Thursday that NATO military authorities also will draw up plans for how the alliance could further act to help shut down illegal migration and smuggling of people across the Aegean Sea.
NATO was responding to a request by Turkey, Germany and Greece for alliance participation in an international effort targeting the smugglers.
The International Organization for Migration said 76,000 people — nearly 2,000 per day — have reached Europe by sea since Jan. 1.
"There is now a criminal syndicate which is exploiting these poor people," Carter said. "Targeting that is the greatest way an effect could be had."
With reports from the Associated Press and the Canadian Press