Extreme cold blasted through central and eastern Canada over the weekend freezing 60 per cent of the world's eleventh largest lake. On February 14th the province of Quebec saw windchill temperatures reach -46 C and Barrie, Ontario reached -33.3 C which broke the previous record in 1879.
Officer may lose fingers to frostbite
In neighbouring Manitoba, a police officer suffered severe frostbite to his hands that may cost him some fingers. He was in training at the time in weather that, with the wind, felt like -39 C. There are guidelines to protect workers from such accidents and an investigation is likely.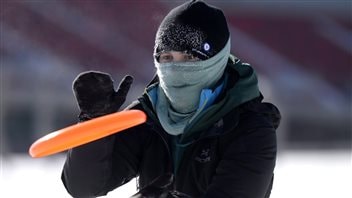 Lake Erie's surface measures 25,700 sq. km. On Friday, Feb. 12, satellite imagery showed ice covering only thee per cent of this, the shallowest of the five Great lakes at the heart of North America. By Sunday, the ice had formed over 64 per cent of the surface. CBC obtained video of the ice forming and bunching up.
Cold, snow, rain…sigh
While Canadians are used to some very cold weather in winter, many found this weekend to be extreme. It could be partly because in eastern Canada, it has been unusually warm until now because of the weather effects of La Nina.
Indeed, after the extreme cold of the weekend, Montreal will see temperatures go back above zero this week, and an expected snowfall will likely turn to freezing rain.
It seems like there's never a dull moment this winter.