When workers are sick for more than a few days, many Canadian employers oblige them to get a note from a doctor. Most employees can take a certain number of days off with pay due to illness.
Getting an appointment with a doctor on short notice can be difficult. Many people don't even have their own family doctor and must wait for hours to be seen in a walk-in clinic or hospital.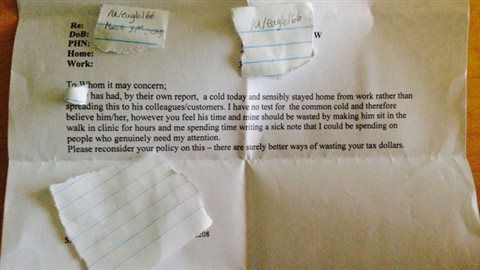 Doctors are annoyed
Doctors are increasingly annoyed by the note requirement saying it wastes their time and puts undue stress on an already over-burdened health care system.
While health care is publicly funded, some doctors ask patients for a fee to write sick notes (about $25 in the province of Quebec), and some have threatened to make employers pay the fee.
A law was recently proposed to try to ease the burden in the western province of Manitoba. A back-bench politician there argued that employers should wait for an employee to be sick more than seven days before requiring a doctor's note.
Businesses cite absenteeism
Some business groups opposed the change saying current rules are needed to manage absenteeism.
The proposed legislation was tabled as a private member's bill. As such, it is not a government priority. Time for debate ran out today and the bill is unlikely to pass before an election scheduled for April 19, 2016. The complaints however, are likely to continue.