The Canadian who won the Nobel Prize in physics for 2015 is encouraged by the newly-elected federal government's attitude toward science and innovation, reports Canadian Press. Arthur McDonald met with Science Minister Kirsty Duncan and told the wire service that he's pleased with the government's commitment to evidence-based public policy.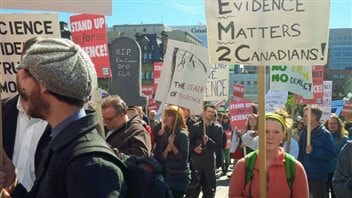 Change of government, change of attitude
The attitude is a dramatic change from the previous Conservative government which kept a tight rein on scientists forbidding them from speaking to journalists and restricting their participation in conferences. Several research projects were shut down as were some libraries.
When they ran for office in 2015, the Liberals promised to recognize the importance of science and now that they form the government, there are early signs they plan to follow through.
McDonald won the Nobel Prize for his work on miniscule particles known as neutrinos.
(with files from Canadian Press)