Pick your poison.
Pick up a newspaper, click on your computer and presto! Be bombarded with the worst of human kind, way too many people spewing venom in the name of religion.
Not always, of course. There are exceptions.
For one, I direct you to a parking lot in the Greater Toronto Area town of Thornhill.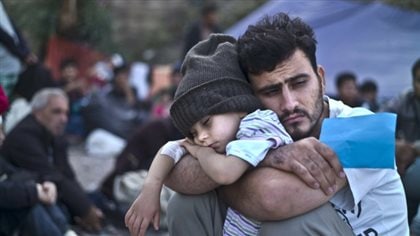 On one side sits the Temple Har Zion synogogue. Across the asphalt sits the Imam Mahdi Islamic Centre.
For years they have co-existed, administering to the faithful, doing their own thing in that oh so civil and polite Canadian fashion.
A lot has changed recently.
The congregations work together now, galvanized, showing common cause, trying to ease the burden of the desperate human beings fleeing the hell that is Syria.
Some 25,000 of those Syrians have already arrived in Canada. Temple Har Zion Rabbi Cory Weiss and Imam Mahdi Islamic Centre Imam Seyed Reza Hosseini-Nasa and their congregations are doing their level best to bring more.
So far, they have raised over $12,000 toward a minimum goal of $60,000 to sponsor more refugees.
And they are just getting started.
Rabbi Weiss spoke by phone with RCI from Thornhill on Tuesday.
Listen