UNICEF Canada is one of the organizations joining the international community in marking a grim anniversary today. It has been five years since the anti-government demonstrations and protests ignited the warring factions that have destroyed the country and sent millions into exile.
"we've had to turn into a major supplier of clean water to millions of Syrians inside and outside of the country."
David Morley, president of UNICEF Canada, says a place that was a middle-income country has lost 40 years of development. He says the infrastructure is gone. "For us at UNICEF for instance, it means that we've had to turn into a major supplier of clean water to millions of Syrians inside and outside of the country."
Listen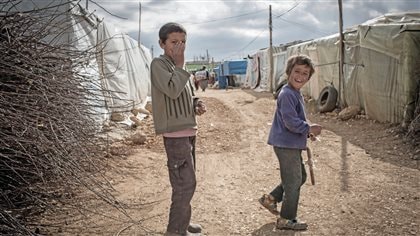 According to UNICEF, an estimated 2.9 million children inside Syria and at least 811,000 in neighbouring countries, all under the age of five, have known nothing but strife.
This for Morley, is the paramount concern; they're now described as "the lost generation". Over three million children are not in school. And they are being targetted by the warring factions.
1500 violations against children last year
David Morley says children are increasingly being approached by armed groups in an attempt to recruit them. Fourty schools were attacked last year, and several health facilities.
"We are calling on all the parties to the conflict to respect international humanitarian law and end attacks on education and health centres and to end violations against children." he says.
"We can help those children be ready for when peace comes, they can be building their society"
David Morley says UNICEF's efforts at building and creating child-friendly spaces, safe spaces, such as playgrounds in refugee camps and recreation and health centres is at the core of helping the children deal with the trauma many are experiencing.
Morley stresses the importance of playgrounds, "When we build them it's amazing the difference they make" He says with the acting out and increased aggression children exhibit as a result of the trauma, playgrounds are a safe and secure space to help their development.
It's also a help to the larger communities. "When we see children playing it makes us feel better." Morley says. But at everyon agrees, there will be no change in the situation, until a political solution is established.