Marine Le Pen could be one of France's most popular politicians but the leader of the far-right Front National has yet to secure a meeting with any major provincial or federal leader in Quebec during her week-long visit to Canada.
Le Pen has had trouble finding a receptive audience among Quebec's political establishment since arriving in Montreal on Friday. And her Sunday's news conference in Quebec City was disrupted by a small group of anti-fascist protesters, shouting and unfurling banners.
Le Pen's stance on immigration seems to be too far to the right even for the leadership of Parti Québécois (PQ), which only two years ago championed the controversial Charter of Quebec Values, banning the wearing of conspicuous religious signs, such as head scarves, turbans and kippas, by public sector employees.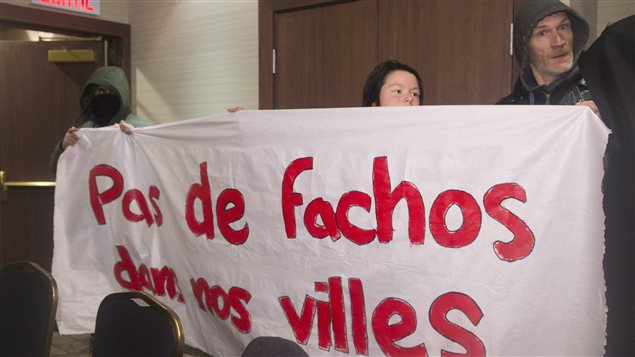 Le Pen said she did have meetings with some members of the PQ on Saturday, but party leader Pierre Karl Péladeau quickly took to Facebook to dissociate himself from her.
Péladeau said he was "shocked" that anyone from PQ would meet with her, stressing that party members who met with Le Pen did so on personal initiative and were not in any official capacity representing the sovereignist party.
The Front National's "doctrine is diametrically opposed to the values of the Parti Québécois," Peladeau wrote in his Facebook post.
Quebec Premier Philippe Couillard is also refusing to meet with Le Pen, who is in Canada as part of an economic trade mission headed by the European Parliament, of which she is a member.
The mission has meetings planned with federal International Trade Minister Chrystia Freeland, as well as Quebec's economic development minister, Dominique Anglade. It also has a meeting scheduled on Monday with Bombardier.
The offices of both Freeland and Anglade have said that while they will meet with the trade mission, Le Pen will not be present.
Warning to Canada
At her news conference in Quebec City, Le Pen criticized Canada's immigration policy, calling it an "error" to admit 25,000 Syrian refugees.
"A multicultural society is a conflicted society," she said during the news conference.
Le Pen described the current situation in France as warning for Canadians.
"We put out a welcome sign, but what conditions await them? The slums of Calais? This is a policy that makes no sense and is dangerous," she said referring to a large informal refugee camp near the tunnel underneath the English Channel.
However, Canada's approach to immigration and refugees is very different from France's. The Syrian refugees who have been resettled to Canada directly from refugee camps in Jordan, Lebanon and Turkey can count on a vast array of support and services offered by various levels of government, as well as community organizations and private individuals who have sponsored them.
With files from CBC News and The Canadian Press