March 21 is World Down Syndrome Day and a time when activists and parents seek to dispel the myths that dog people with the syndrome. The genetic disorder makes people look different and causes cognitive disabilities that vary in severity. There are many misconceptions about the disorder.
Many myths persist
"People believe that people with Down syndrome don't have the ability to understand or learn. And that's not really the case," says Kevin Whyte, father of a 26-year-old son with Down and former chair of the Canadian Down Syndrome Society.
"People with Down syndrome usually suffer mild to moderate cognitive disabilities which means they have the ability to learn and understand things the way most people do. They often just do it a little slower and take a little longer.
"So it's really important that you understand that and you treat people with Down syndrome the same way you'd treat anyone else."
Listen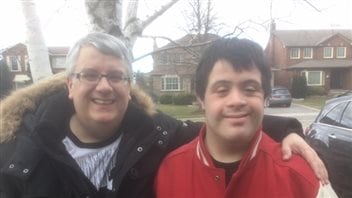 No, not happy all the time
Many people with the disorder have communication challenges and that creates a misconception that people don't understand. There is also a misconception that people with Down syndrome are happy people. But Whyte says they experience all the same emotions as anyone else from joy and happiness to sadness and pain,despair and grief.
Progress in health and education
A big change has happened in awareness in Canada over the last 25 years, says Whyte, and progress has been made in the areas of health and education. People with Down syndrome have access to the medical care they need and they are increasingly educated and integrated into public schools. But employment is still an area of concern.
Employment is a challenge
"It's getting better but it's difficult," says Whyte. "There are still thousands of people with disabilities that have not had access to full employment."  Those that do get work often do a great job he says, adding that people with Down syndrome are very loyal and tend to stay at their jobs for a long time.
Studies suggest that employing people with disabilities raises the overall morale of a workplace, says Whyte. The Canadian Down Syndrome Society holds workshops across the country to inform employers and it lobbies to raise awareness among companies and governments so that attitudes and laws can change.
Nico Montoya is a 13-year old boy with Down syndrome who came to Canada with his family from Costa Rica. His father's application for permanent residency was turned down because of the potential burden Nico's condition could place on health and social services. Whyte says most people with Down syndrome are no more of burden than anyone else. The Canadian Down Syndrome Society is asking the minister responsible for immigration to review the case.