Arabic lessons are underway in Lewisporte, Newfoundland, in an effort to welcome the Syrian family that will soon be settling there.
The town of 3,300 people, on a bay in north-central Newfoundland, will be helping the refugee family get accustomed to their new home in Canada.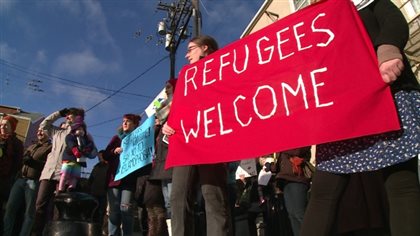 Rev. Stephanie McClellan is the Chair of the Lewisporte Refugee Outreach team. She has renovated her home to accomodate the family who will be arriving any day.
But it is 'local' Naz Faidullah, originally from Iraq, who is teaching some of the community how to say a few important things in Arabic. Faidullah came to Canada 20 years ago.
In an interview with the CBC's Julia Cook, Faidullah acknowledged that Arabic is not an easy language. "It is going to be not a deep conversation that they can carry on, but they are going to be OK to communicate with the family." she said.
Newfoundlanders are known for their outgoing hospitality and colorful language, Endearments such as 'my dear', 'my love' and 'my darling' pepper the language of many.
Now 'ha-bi-bi' and 'a zi-zi', the phonetic translations will be added.
Faidullah is skipping the Arabic alphabet, but she says the locals are quickly picking up the expressions and she is finding herself amazed at the results.
"I never thought I'd face one day in Lewisporte I would hear one Arabic word," said Faidullah. "So, every time they see me, "Sa lam a la kum," I am the one who's struggling back to the Arabic!"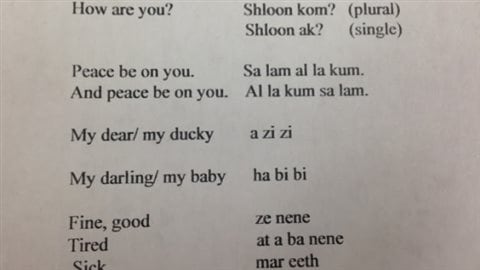 Rev. McClellan was keen to learn how to be a better host, how to offer tea or coffee? "Ask them if they want qahwa or shay, which is tea. Do they want sukkar or halib, milk? And a double double would be wasa," said McClellan.
Rev. McClellan says it is not a quest for fluency but a way to help the family feel connected. "Because it shows an added layer of we really want to welcome you and we don't just expect you to come and learn from us," said McClellan.
"We want also to learn from you and to welcome you and your culture here."
As private sponsors, Rev. McClellan and her group will be providing financially for the family for the next year.
A committee of volunteers in Lewisporte is raising the $15,000 (Cdn) and contributing furniture and appliances to the new home. They are looking forward to welcoming a family of three or four. Meanwhile, in nearby Gander, there will be five or six Syrian refugee families so the two communities will work together.