Canada's sizzling hot housing market continues to set new records as national home sales rose to their highest level ever in April, according to statistics released today by the Canadian Real Estate Association (CREA).
House prices also set new records, with the average sale price climbing up to $508,097 in April, CREA reported.
Sales were up in April compared to the previous month in about 70 percent of all local markets, led by the Ottawa region and Edmonton. Following small declines the previous month, activity held steady in the Greater Toronto Area (GTA) and edged lower in Greater Vancouver, said the report.
"With almost three-quarters of all local markets posting sales gains in April, there are plenty of other places where sales are climbing as we head into the busiest time of the year for homebuyers," said CREA president Cliff Iverson.
The continued rise in housing prices not only puts home ownership beyond the reach of many young families but also worries economists, who fear Canada's housing bubble is about to burst.
Continuing the trend seen in recent months, two-storey single family home prices posted the biggest year-over-year gain (+12.3 per cent), followed by townhouse/row units (+9.8 per cent), one-storey single family homes (+9.4 per cent), and apartment units (+7.9 per cent), said the report.
Supply shortages
Greater Vancouver and the Fraser Valley in British Columbia posted the largest gains (+25.3 and +25.6 per cent respectively), followed by Greater Toronto (+12.6 per cent), Victoria (+12 per cent) and Vancouver Island (+8.2 per cent).
"Supply shortages and tight housing market conditions have become self-reinforcing in the GTA," said Gregory Klump, CREA's Chief Economist. "The Greater Vancouver Area appears to be heading in that direction too."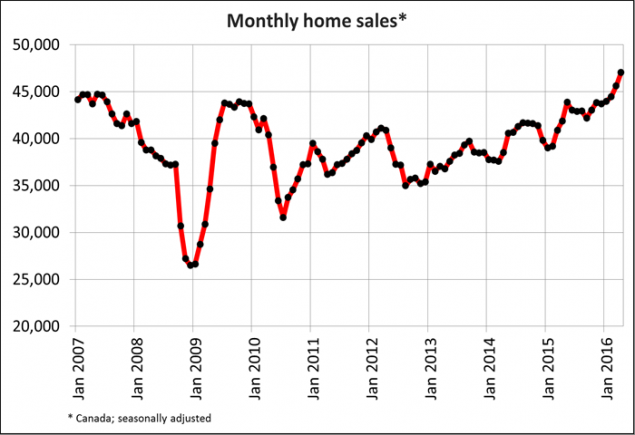 While significant home price gains may entice some homeowners in these markets to list their home for sale, the issue for many is that the decision to move means they would also be looking to buy while competition for scarce listings is fierce, Klump said.
"As a result, many homeowners are deciding to stay put and continue accumulating capital gains," Klump said. "That's keeping listings off the markets at a time when they are already in short supply."
By contrast, home prices fell by 3.5 per cent and 2.4 per cent in Calgary and Saskatoon respectively, two cities whose economies have been hit hard by the steep decline in the oil industry.
'Business as usual'
Greater Vancouver's and Greater Toronto's housing markets, Canada's most expensive and tightest, continue to push the national average price upward.
If these two housing markets are excluded from calculations, the average is a more modest $369,222 and the year-over-year gain is reduced to 8.7 per cent, said the report.
Bank of Montreal economist Robert Kavcic said Monday that the large national figure masks wide regional variances across the country.
"Of the 26 major regions covered, six saw double-digit average price gains in April, 10 saw outright declines, while the median city was running at 1.4 per cent," Kavcic said.
"It's business as usual in Canada's housing market, with extreme strength in Toronto and Vancouver, corrections playing out in the oil-exposed markets, while most others fall somewhere in between. With supply in the two hot markets extremely tight, and policymakers barely testing the water, prices are likely to push even higher through the rest of this year."
With files from CBC News