She's 45 now, the mother of two.
But images from her youth will remain forever embedded in Canada's collective consciousness.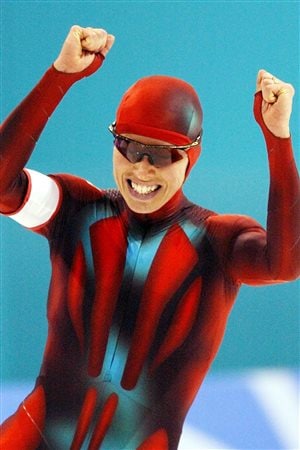 Blessed with what reporters called "prairie good looks," intelligence, charm, a fierce competitive streak and magnificent athletic ability, Catriona Le May Doan raced into our hearts and minds two decades ago, the girl next door who did so well.
Le May Doan was a speed skater. And what a speed skater, the winner of two Olympic and five World Championship gold medals and seven silver and bronze medals.
Now, she's under just a bit of fire.
Le May Doan is currently appearing on television talk shows promoting a card called Innovicares that lets Canadians buy brand-name drugs at the same price as generics.
During her appearances, LeMay Doan tells her hosts and audience that she discovered something almost "too good to be true" in her fight against chronic pain and arthritis.
And there's the rub.
Some critics say that too often it's not made clear that Le May Doan is being compensated as a paid "ambassador" by STI Technologies, the Halifax company that distributes the card that is used by more than one million Canadians and which some say drives up health care costs.
Le May Doan has not spoken to the matter publicly so for some perspective, RCI spoke with noted Canadian author, journalist and tv and radio personality Bruce Dowbiggin.
Dowbiggin spoke from his home in Calgary.
Listen