There is a controversy simmering within the Green Party that is making waves internationally and has the potential to boil over.
It's known as BDS, boycott, divest, sanction and it's a proposal put forward by some Green Party members to retaliate against Israeli occupation of Palestinian territory. Another proposal would seek to revoke charitable status of the Jewish National Fund of Canada (JNF), which develops land in Israel. Certain members of the Greens want the proposals to become part of the Green policy platform.
Such proposals within the Green Party are not vetted before being put to members.
The options are to; reject such proposals outright, accept as party policy, or send them to the national convention for debate.
Shimon Fogel, CEO of the Centre for Israel and Jewish Affairs (CIJA) said, "We are stunned that the Green Party would allow itself to be hijacked by those who promote an anti- Israel agenda."
Elizabeth May, the Green's only member of Parliament, and long-time leader of the Greens has come out publicly against the two proposals and has said she will do her best to convince other members to vote down the proposals.
In an open letter to the Jewish community she wrote," "The Green Party of Canada opposes the use of Boycott, Divestment and Sanction tactics to influence the policies of the Netanyahu government. Some members wish to change that policy. That is their right as members. The resolution relating to the Jewish National Fund is more problematic. There are clearly a number of problems with the draft resolution."
She says however within the party it is 'one person, one vote', so she cannot personally stop the resolutions. An online vote is taking place and results will be known next week. May feels the proposals will likely be sent for debate to the Green Party national convention to be held in the national capital, Ottawa, from August 5-7.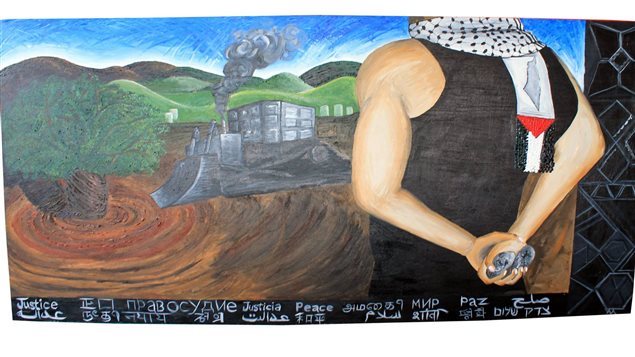 RCI-anger over anti-Israel painting
May met with the Israeli Ambassador Rafael Barak last week to state that the Green Party firmly supports Israel's right to exist and condemns any and all forms of anti-semitism.
A strongly-worded parliamentary motion in February condemning the anti-Israeli BDS movement was passed in February although Ms May, and members of the New Democratic Party voted against it.
In that case May said she was more concerned about freedom of speech and the idea that even legitimate concerns about Israeli actions would be immediately labelled as "anti-semitic".
additional information-sources