A high-level team of government officials were assembled to announce Canada's big new commitment to international peacekeeping.
Defence Minister Harjit Sajjan, International Development Minister Marie-Claude Bibeau, Foreign Affairs Minister Stéphane Dion and Public Safety Minister Ralph Goodale, all gave brief speeches and answered questions at a press gathering at the Canadian Forces Base in Bagotville Quebec.
What they announced was a commitment to UN peacekeeping operations to provide some 600 military personnel and almost half-billion dollars to be spread over the course of several years.
Canada's Prime MinisterTrudeau said at a different press conference later Friday that the CFB Bagotville announcement was Canada "demonstrating to the world that we are very much interested, and supportive of the work that the United Nation does to stabilize, to create security, to create opportunity in difficult places right around the world."
One aspect is the creation of the 'Peace and Stabilization Operations Programme' which will coordinate government responses to conflicts and emergency situations around the world. It will also support stabilization efforts and projects in fragile and conflict-affected regions, and provide a better early warning system to the government of conflicts brewing around the globe.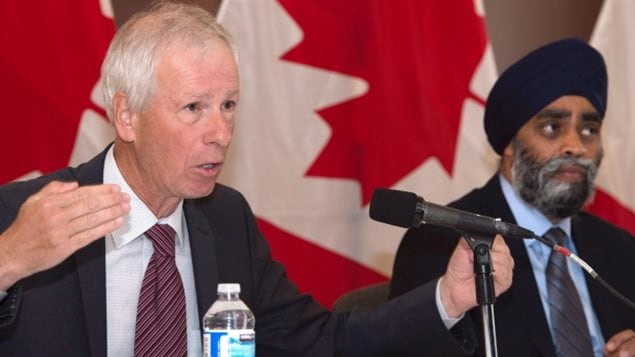 While it sounds like a major and new investment in peacekeeping, critics say the new  programme funded at $150 million a year,  is merely a replacement of the existing Stabilization and Reconstruction Task Force (START) with only a tweaking of that previous mandate and with basically the same funding as START.  As for improved early warning,  a number of agencies and departments in Canada already work on this, and in spite of that, Canada, like many other countries, have still often been caught off-guard by sudden developments of conflicts.
The Defence Minister announced new military personnel commitments to an already overstretched military currently in the Middle East,  Eastern Europe and elsewhere.
Although nothing specific was announced, most think this will be in the African country of Mali where an internal war has been ongoing since 2012, with rebels setting up a separate area in northern Mali. In the Democratic Republic of Congo, another potential candidate for a Canadian mission, has a Security Council mandate for "offensive operations" against illegal armed groups indicating the danger to peacekeeepers there. South Sudan and the Central African Republic are also candidates.
All are dangerous and confused situations with little peace to keep.
Earlier this year the government announced in its budget a separate $47 million dollars a year for three years to fund the deployment of 150 police officers for international peacekeeping operations.
additional information- sources