A new assessment by an economic analysis group says the Canada-US softwood lumber deal threatens up to 22,000 jobs in Canada.
It adds the deal has benefitted American producers, while harming Canadian producers and American consumers.
The analysis was prepared for the Montreal Economic Institute (MEI), an independent, non-partisan, not-for-profit research and educational organization.
"The case of softwood lumber is a perfect illustration of how protectionism generally provides benefits for a small number of people while harming a majority," points out Alexandre Moreau, Public Policy Analyst at the MEI and author of the publication which was prepared as negotiations continue prior to an October 12 deadline.
The dispute over lumber has been dragging on for over 30 years. The Americans have long challenged Canadian lumber exported to the US claiming it is unfairly subsidized.
Most Canadian lumber is harvested on Crown land, whereas most US lumber is harvested on private land at higher cost to producers.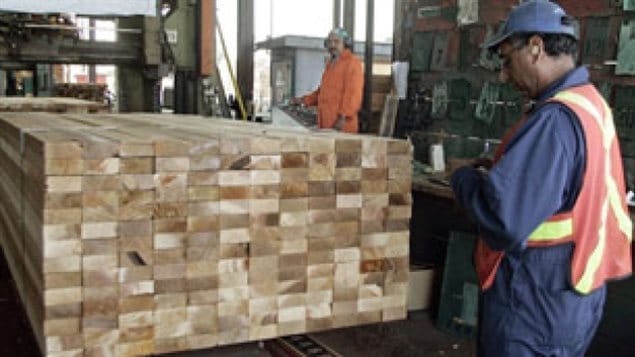 WTO rulings sided with Canada and while a NAFTA ruling agreed that royalties paid by Canadian companies to the Crown, were not high enough and so did constitute a subsidy.   However the MEI analysis points out, "it was below the threshold required to justify sanctions according to American law. The existence of harm or the threat of harm caused to the industry has therefore never been demonstrated beyond all doubt by the American government."
In the face of continuing American legal action and an apparent battle of attrition against Canadian companies, an agreement was nonetheless worked out to be in effect from 2006- 2015. Tariffs and limits on Canadian softwood export were imposed ranging from 5% to 15% and would be combined with a export limit when US prices fell below $355 fer thousand board feet.
Major exporting provinces of Quebec and British Columbia instituted public auction mechanisms for access to Crown land to address American claims of a lack of free market value and costs for access to tree lots.
 "The fact that these two provinces have implemented market mechanisms to determine royalty levels should in theory allow them to avoid the possible imposition of tariffs by the United States," adds Mr. Moreau.
The latest MEI 'Viewpoint'  says that despite American setbacks at the  World Trade Organization (WTO) and North American Free Trade Agreement (NAFTA), American softwood lumber producers are still calling for tariffs and/or limits to Canadian softwood lumber imports.
The current deal expired in 2015, with a one year grace period and so has to be renegotiated. Failure to get a new agreement by the October 12 deadline means Americans may begin imposing an even higher tariff of up to 25 percent, posing a serious threat to the Canadian industry.
The report said the current deal has resulted in an almost 8 percent reduction in Canadian exports and affected close to 22-thousand Canadian jobs.  A higher tariff will be certain to negatively affect thousands of Canadian jobs and the economy.
The analysis also notes that while the deal has harmed Canadian producers and greatly benefitted American producers, it has harmed American consumers by keeping wood prices higher.  By reducing Canadian softwood imports (used primarily in housing construction) Americans have had to use higher priced sources. The report estimates the US protectionist measures have cost American consumers and additional $6.36 billion.
The analysis says that even with a new deal and lower tariffs, American producers would still be the big winners, with Canadian producers, and American consumers continuing to pay the price.
Additional information –sources