Canadians would back a tax on sugary drinks if the proceeds were used to fund health initiatives, according to public opinion research. The World Health Organization (WHO) today said countries should use tax policy to increase the price of sodas, sports drinks and all fruit juices in an effort to stem obesity, heart disease, diabetes and tooth decay.
Canadians drink almost 100 litres per year
"Canadians consume close to 100 litres of sugary drinks annually. That's a big problem," says Manuel Arango, director of health policy and advocacy at the Canadian Heart and Stroke Foundation. The average can of soft drink sold in Canada contains 355mls and almost as much sugar as the daily limit.
Canadians are consuming less pop and more of the other sugary drinks like vitamin water, sports drinks, energy drinks and fruit juice. Some people mistakenly believe that fruit juice is a healthier alternative.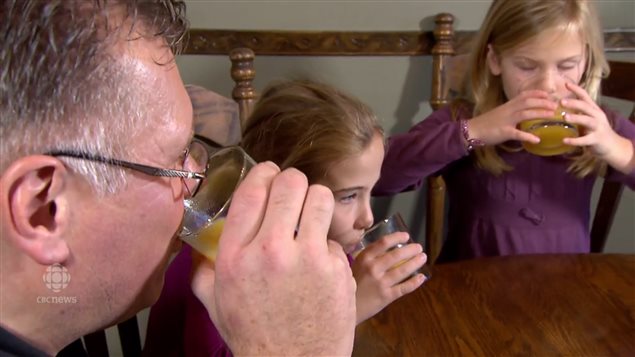 'Fruit juice is nothing more than sugar water'
"What we know and what we're learning is that fruit juice is nothing more than sugar water. It has very little nutritional value and, in fact, often fruit juices have up to 33 per cent more sugar than pop," says Arango. A major problem is that sugar absorbed from liquids does not affect our feeling of being full, or satiety, so it is easy to over consume.
"We know that sugary drink consumption is highly related to obesity and overweight. And in Canada, we know that we are the fifth most obese, overweight country in the world," he adds.
Listen
Canadian government considers a tax
A comprehensive approach to reduce the consumption of sugary drinks is favoured by the Heart and Stroke Foundation. It would like to see changes in the marketing, availability and price of sugary drinks. Arango says the price of milk has gone up almost 75 per cent in the last 20 years, while the price of pop has only increased only 25 per cent.
The foundation would like to see a tax on sugary drinks with the money raised being spent on health initiatives. Arango says a majority of Canadians would support this. The Canadian government is considering taxing the drinks.
Mexico has already done so, and others like the Philippines, South Africa, the United Kingdom and Northern Ireland intend to do so.
'Reduce suffering, save lives'
Today is World Obesity Day. The World Health Organization says the prevalence of obesity in the world more than doubled in the years between 1980 and 2014. By then, nearly 40 per cent of people around the world were overweight.
A WHO officials says the consumption of free sugars, including sugary drinks is a major factor in the global increase of obesity and diabetes. Says Dr. Douglas Bettcher in a news release, "If governments tax products like sugary drinks, they can reduce suffering and save lives. They can also cut healthcare costs and increase revenue to invest in health services."